Flower bulb packs help you avoid "choice overload" when purchasing flower bulbs. The most beautiful colours, the loveliest fragrances and just the right sizes have been pre-selected for you, so you can get straight to work in your garden. The following flower bulb packs all have something special about them. Choose your favourite to enjoy a sensational floral spectacle in your garden or on your patio this spring.


1. 1-2-3 flower bulb disc
Bakker's 1-2-3 flower bulbs disc is the latest sensation in flower bulb packs and is ideal for garden lovers who would rather not to do too much gardening. The disc is ready to use and will create flower pots packed with flowers. Simply follow these three easy steps.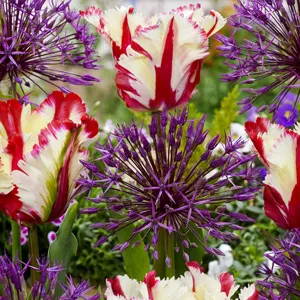 Make a space for the disc in the flower pot or in the open ground (about 30 cm).

Top the flower pot or border up with potting soil, press it down and water.

Enjoy beautiful flowers in a rainbow of colours in the spring!
Whether you go for a mix of vibrant colours or prefer quieter colours, everything is possible! All our flower bulbs discs contain high-quality tulips and alliums in the largest bulb sizes, producing large, strong and long-lasting flowers.

These fantastic flower bulb packs will not only fill your garden with lovely colours and fragrances, but also cheerful buzzing and fluttering. This is because these flowers produce nectar that attracts bees and butterflies. Just one of these flower bulb packs provides six months of nutrition for these insects. Bees and butterflies are very important for the pollination of flowers in the spring, so give nature a helping hand while you enjoy an oasis of flowers.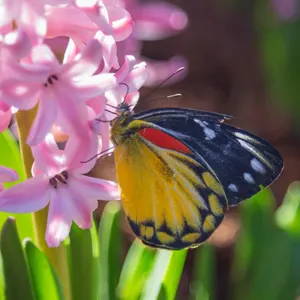 3. Six months of flowers mix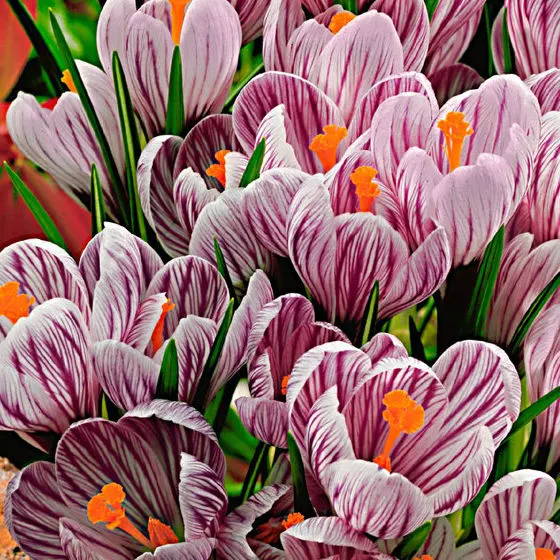 How long? Since when does spring last six months? This flower bulb pack contains a mix of spring and summer-flowering bulbs, so you can enjoy an extended parade of flowers. How does this pack work? The bulbs are combined so that each type of bulb has a different flowering period. As one type of flower fades, the next one begins to bloom, which means that you can enjoy months of flowers. This is how you plant this flower bulb mix:
Take a deep flower pot or dig a deep hole in your garden or border.

Place the bulbs that will bloom last at the bottom with their pointed ends upwards. Pay close attention to how far you space them apart – leave them enough room to develop properly. The planting distance is shown on the label or on the Bakker website.
Put a layer of fresh potting soil for flower bulbs on top of the first layer of flower bulbs.
Create multiple layers of flower bulbs until you reach the top of the pot.
The final layer is always the first to bloom so that these bulbs don't damage the others as they grow.
Finish with a bit more potting soil and press it down gently. Water sufficiently and leave Mother Nature to do her thing…
4. Naturalising bulb pack
Naturalising bulbs are flower bulbs that you simply leave in the ground. The flowers will bloom again, year after year. Plant this flower bulb mix in open ground with the bulbs randomly distributed to achieve a great mixture of colours and types. These bulbs will require good care after flowering. Give them fertiliser for extra nutrition and let the leaves remain on the plant for as long as possible. This way, the bulbs can store as much nutrition as possible so they can bloom again next spring. Make sure that you always remove the faded flowers. New flowers form in the autumn, to create fresh colour for the following spring. Get ready to enjoy this mix year after year.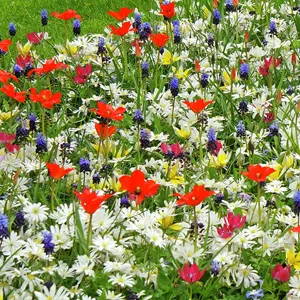 5. Packs by colour or type
Do you have a favourite flower that you absolutely must have in your garden? Or do you want to completely transform your patio with your favourite colour? You're in the right place then! Bakker has a wide range of packs selected by colour or type of flower, from purple and yellow to white, pink and even blue. These colour packs contain between two and six different types of flowers. Do you want flower pots with just tulips or daffodils? That isn't a problem. Bakker has gorgeous combinations of every kind of flower. You could plant a mix of white and blue grape hyacinths, for example, or choose a combination that mixes well-known favourites with more unusual flowers. Bakker has selected a festive mix
of tulips including single tulips, double tulips, lily-shaped tulips and fringed tulips. You'll find every combination imaginable in Bakker's wide range of flower bulbs.
Please note: When you buy flower bulbs, always pay attention to a quality mark. All the flower bulbs from Bakker.com have the Holland Selection quality mark and even A status. This means that their quality, purity, colour, size and health are of the highest possible quality. Bakker.com only sells the largest bulb size on the market. These flowers bloom more vigorously, produce larger or more flowers and bloom for longer. This is why Bakker.com provides a 100% flowering guarantee on all of the flower bulbs in our range.