Are you a fan of alliums, too? You're in the right place then! Allium (ornamental onion) is a flower bulb of which there are about 700 varieties. Each one seems more beautifully coloured or to have an even more special shape than the last. The ornamental onion is perfect for making all kinds of plant combinations, both in the garden and in a flower box. The flower bulb is perfect in combination with other Garden Plants and Flower Bulbs. In addition, the allium is also very easy to care for. It loves a sunny spot, but even in a shadier garden these fascinating flowers are real eye-catchers. And they come back the year after that!
Late spring bloomers
Most varieties of ornamental onions bloom in June, shortly after the real spring bloomers and just before most summer bloomers. These flower bulbs are therefore must-haves for your garden's transition from spring to summer. Allium bulbs must be planted in autumn. That's why alliums are categorised as spring flowering bulbs. You have to wait a bit, but in May your patience will be rewarded! All the flowers of ornamental onions can also be used as cut flowers or dried flowers. The flowers last fairly long time; an average of 2 weeks in a vase.
Alliums can also stay in the same place in the garden for years. Immediately after flowering, give the bulbs organic fertiliser and allow the flowers and leaves to die completely. Trim off the dead foliage and the flowers will appear again the next spring. An ornamental onion in a flower pot is usually not frost-resistant, so store it in a frost-free place, for example in a shed.
Do you want to learn more about planting and caring for alliums? Read the article "Alliums: The perfect flower bulb for spring and summer"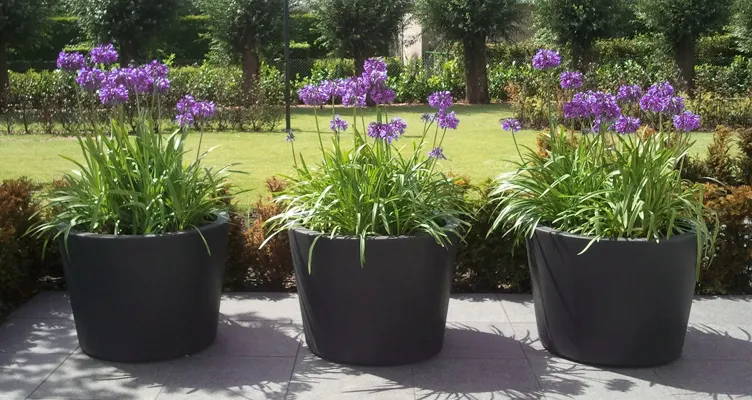 Limitless combinations
Alliums are very versatile and therefore easy to combine together and with other bulbs and plants. There are countless options for lovely combinations with plants and bulbs. Here are a couple of examples of colourful combinations and tips to keep in mind.
A section of the garden with only one allium varieties is, of course, is itself a fantastic choice. This flower bulb is particularly suitable as a solitary plant. The striking shape of the flowers makes the ornamental onion look modern, yet elegant, in your garden. For example, choose the Bulgarian ornamental onion (Allium siculum) with its colourful white and dark purple petals. This striking flower also grows very well in a flower pot or container. Choose the varieties that stay a little shorter, such as Allium moly. They look striking on the patio or balcony!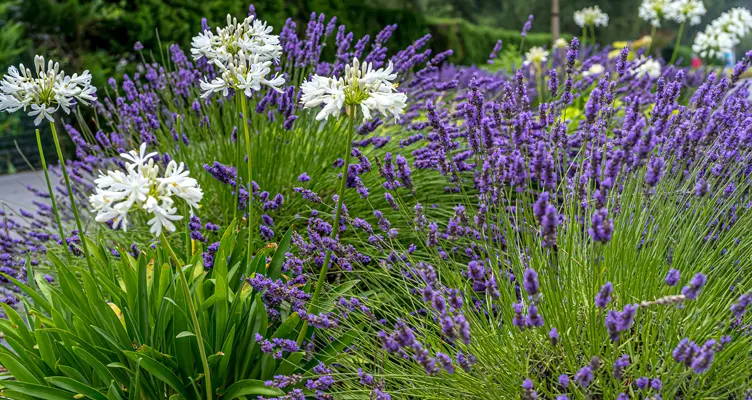 Combining flower bulbs and plants in a border is like making a painting. The colour coordination must be right, one plant or bulb must not dominate and the spaces must be well filled, transitioning from one to another nicely. Mix & match with shapes and colours for a spectacular effect. Combine flowering garden plants in different shapes and colours. For example, you can mix alliums into a border with the iris germanica or peonies. Don't want a stark colour contrast? Check out Bakker's flower bulb packages. In them you will find both beautiful packages in single colour and mixed colours packages.
Height differences are also important within a border. Choose one height and plant the tall varieties of alliums among the other tall plants in the border. This creates beautiful overall picture. The huge, bullet-shaped flowers of Allium 'Summer Drummer' look very nice with border plants that are a bit taller and have purple and blue flowers, and that also bloom during the same period (July-August). Plant the slightly lower-growing, flowering ornamental onion varieties between medium-height border plants. For example, the fetching Allium Caeruleum and the light purple Allium unifolium deserve a prominent place in the garden. Beautiful to combine with lavender, blue scabiosa and other medium-height garden plants in the colours blue and purple. Or have the height of the border go up or down. For example, have the alliums stick up above the lower-growing border plants. Play with these height effects for an even more striking garden border.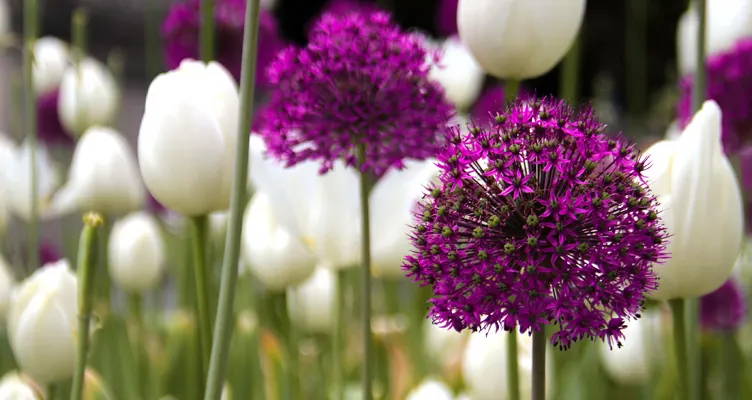 The lower-growing allium varieties are perfect for use in ornate flower pots. This way you can easily add colour your garden, terrace or balcony. Combine these alliums with early-flowering flower bulbs for a long-lasting sea of flowers. Or opt for late-flowering spring bloomers for a beautiful mix. Don't know which flower bulbs you want to put in a flower pot? Check out the "flower bulb discs"! These flower bulb packages are a mix of alliums and tulips. Put this disc in a pot, top with potting soil and add water. The bulbs do the rest.
Do you want to discover more different varieties of flower bulbs? Check out Bakker's extensive range.