Do you find it difficult to find the right flower pot to go with your favourite indoor plant? The flower pot looks overwhelmed, the wrong shape or the plant and pot colours do not match. Make it easy for yourself by choosing one of Bakker's indoor plant – pot combinations. These plants and pots are matches made in heaven. Bakker has selected the perfect pots to go with all your favourite plants. Can't choose? Check out Bakker's top 5 perfect plant – pot combinations.
1. Clusia 'Princess'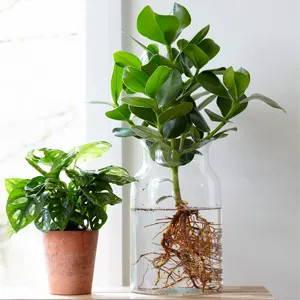 This Clusia is a true princess. With its robust green leaves, the Clusia brings its fairy-tale charm to any space. The roots are visible through the beautiful glass pot, giving it a marsh effect. Put the Clusia in a bright spot, but away from direct sunlight. Clusia prefers to drink spring water because it contains less lime. Will you be pampering your princess this way?
2. Aloe Vera in terracotta pot
Not only a very popular ingredient in food products and medicine, Aloe Vera is increasingly found in homes. This succulent originates in the desert and so it is a perfect match for its terracotta pot. Add a more earthy touch to your home with an Aloe Vera in a terracotta pot. Did you know that you can easily harvest Aloe Vera sap? Cut off a piece of the hard leaf and simply squeeze the juice out. Don't worry, the plant will recover all by itself. The cut leaf can be replanted in a different pot. Enjoy as many Aloe Vera plants as you like.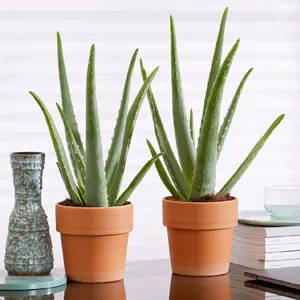 3. Strelitzia 'Nicolai' in a basket
The Bird of Paradise plant is already a welcome guest in the home, but in a basket the plant is irresistible. The Strelitzia is prized for its large, green leaves that resemble wings. Unlike other Strelitzias, the Strelitzia 'Nicolai' does not flower. Get on board with the trend for green indoor plants in baskets!
4. White Orchid Phalaenopsis in an decorative white pot
This tender orchid is a great addition to a peaceful room. The sleek, decorative white pot goes well with Scandinavian interiors. Is your preferred place for the orchid the bathroom or the bedroom? The orchid is in any case back in vogue and is a must-have in the home.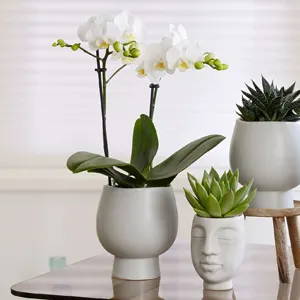 5. Bromeliad mix in a white flower pot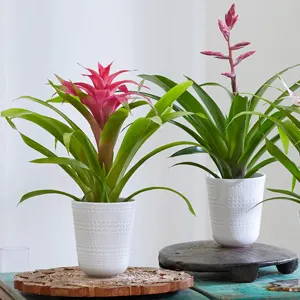 The Bromeliad is a flowering plant that likes to show off its colour. The flowers seem like feathers fluttering above the plant. Put the Bromeliad in the decorative white pot to strike a nice colour note. Join the colour-blocking trend by placing the Bromeliad set in front of a coloured wall, or to emphasise a colour contrast. Colour, all over your home!