For several years now, it has been impossible to imagine interior décor without a touch of green. It has become increasingly important. And we think that makes sense! Greenery is not only beautiful and very chic, plants are also good for you. Air-purifying plants improve the climate in a home. Whatever you choose, one thing is certain: in 2022, your interior décor needs these trendy indoor plants.
Trend 1 - Something different: special leaves with prints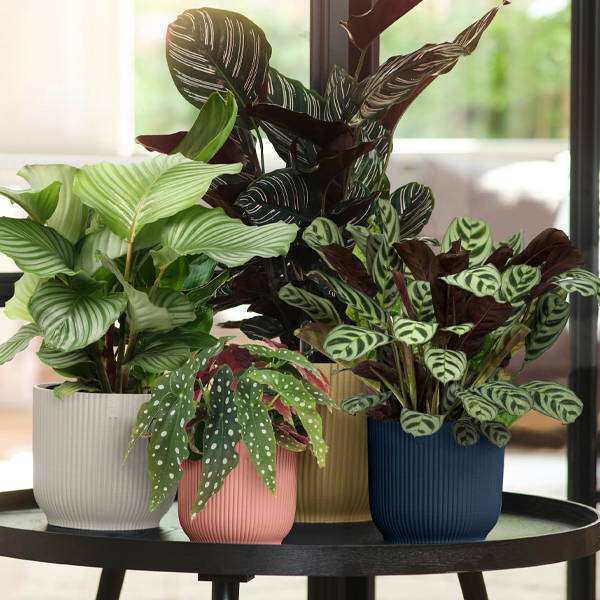 TIP: To make it easy for you, we have made a few sets!
Trend 2 - Make a statement: large indoor plants
Large indoor plants are perfect for catching eyes in your living room, office or bedroom. They instantly add atmosphere and a finishing touch to your interior décor. And if you want to make your décor greener, it's better to get it right the first time. No matter how you have decorated your home, the right large indoor plant to match it is always waiting. What about the impressive Strelitzia, the sturdy Dracaena or the romantic Areca palm.
TIP: A large indoor plant makes a great impression on its own, but when combined with other large or smaller indoor plants, you can quickly create a chicurban jungle.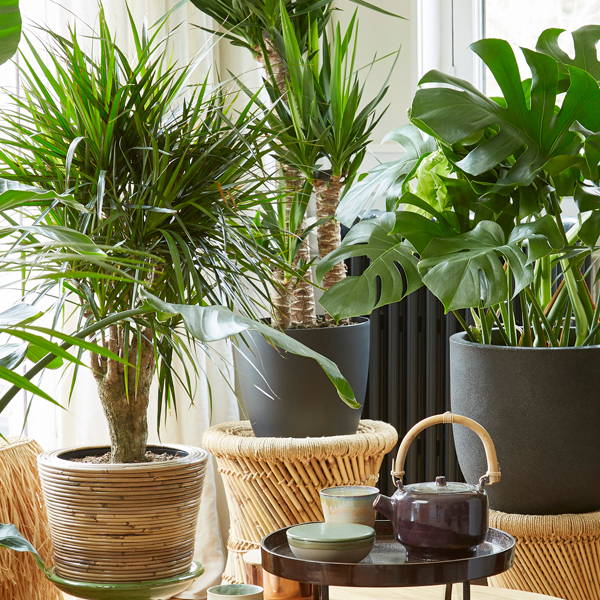 Trend 3 - Retro-style: hanging plants
With Hanging plants  you can easily create a retro-style in your living room, but they are also great if you want to create an urban jungle. You can easily hang them from the ceiling, from a beam or from the stairs. They are ideal for small spaces where there is little room for greenery.
Trend 4 - Sustainability first: dried flowers
The sustainability trend continues. We all think that things can and should be more sustainable. This is also one of the reasons why dried flowers have made a big comeback. You can enjoy a dried bouquet for a very long time, which means that a dried flower arrangement is very sustainable.
Did you know...
Our supplier uses industrial waste heat to dry our dried flowers. This makes the bouquets even more sustainable.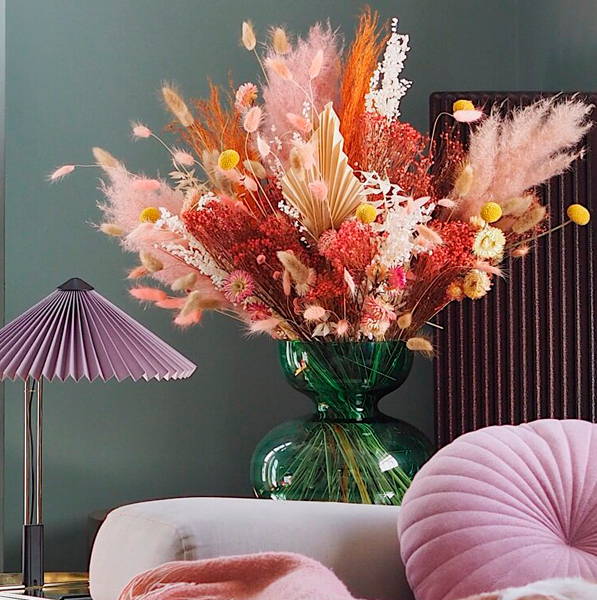 Trend 5 - A healthy living environment: air-purifying plants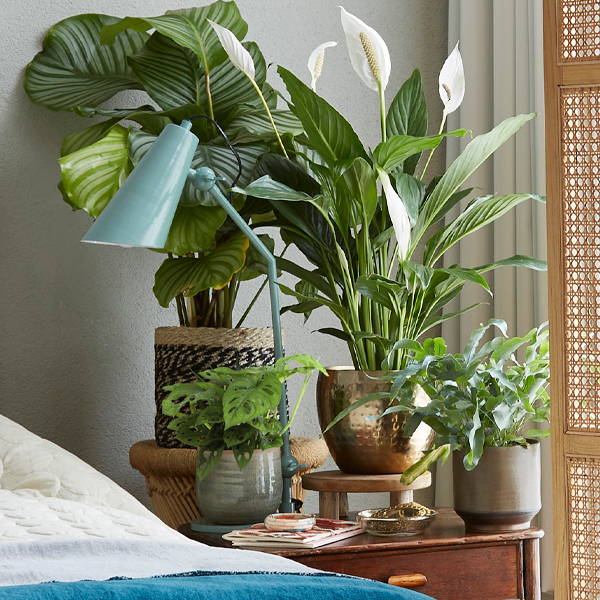 We like to live as healthily as possible — a trend that fits in well with the sustainability theme. This includes having a healthy living environment. Air-purifying plants improve the living environment in the home like nothing else. These green wonders absorb harmful substances from the home and release healthy oxygen. They also help maintain the right level of humidity in the home. This means that these plants are good for your health and concentration in the long term. The best air purifiers are the Spathiphyllum (peace lily), Nephrolepis (sword fern) and Hedera (ivy).
TIP: Are you a fan of large plants? The Areca palm and the Monstera are also good air purifiers.
Trend 6 - Chic and innovative: hydroponics—indoor plants in water
Do you like to be right on trend with your home décor? Then indoor plants in water—also known as hydroponics—are just the thing for you. Real plant lovers delight in hydroponics because you not only see the development of the leaves and flowers, but also the roots. Enjoy watching the roots develop and grow. The Clusia, the Ctenanthe, the Syngonium and the Monstera are indoor plants that you often see growing in water.
TIP: We also have hydroponic plants with lights at the bottom of the vase. This lets you see the roots clearly, even in the dark!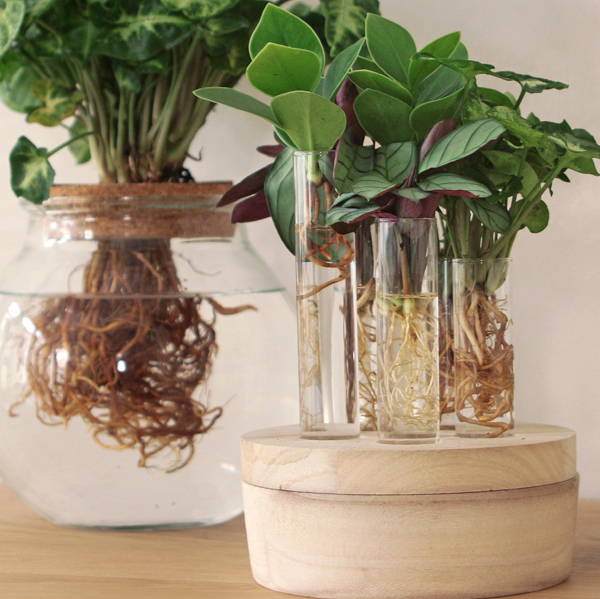 Trend 7 - The bolder the better: flowering house plants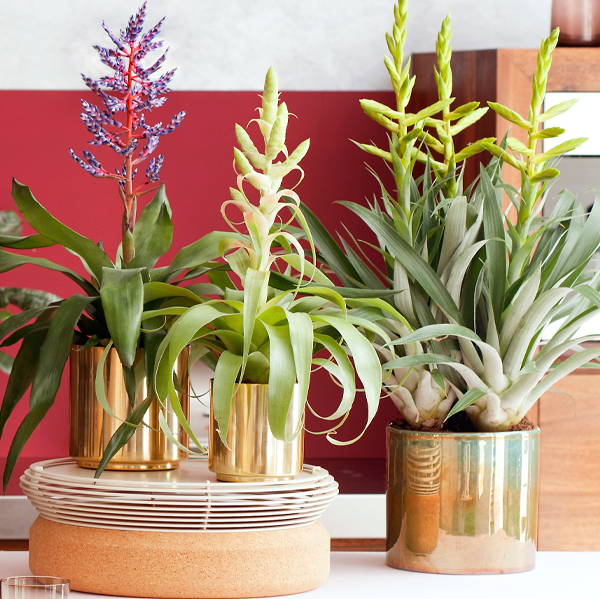 Being colourful and over the top is in again. Flowering house plants fit well into this trend and can help you add some more colour to your interior décor. These indoor plants bloom for extended periods, so you can enjoy their charming colours for ages. Good examples include the Bromelia or the Amaryllis. The Anthurium even blooms throughout the year, so your house will always feel nice and cosy!
TIP: Would you like to know more about how to style the Anthurium and Bromeliad, for instance, by playing about with different colours? Then read this blog.
Trend 8 - It's not all about the plant: striking pots and baskets
The indoor plant trend is not all about the plant. The pot has also become an essential element. Baskets — bamboo or rattan and preferably as sustainable as possible. And again, the more striking the better. Colourful pots are a must for your indoor plant.
TIP: Looking for a nice indoor plant in a trendy pot? we have the solution for you: our plant and pot combinations. It's a quick and easy way to give your living room a green makeover. They come in all kinds of colours and sizes. and we'll also deliver them right to your door. It doesn't get easier than this.