It cannot be said often enough: flower bulbs and perennial plants are perfect partners. Especially naturalising bulbs and hardy perennials. You can simply leave them in the ground. While the flower bulbs are hibernating, you can still enjoy the greenery of your perennials.
Discover below our top five favourite flower bulb-perennial plant combinations:


1. Alliums & ornamental grasses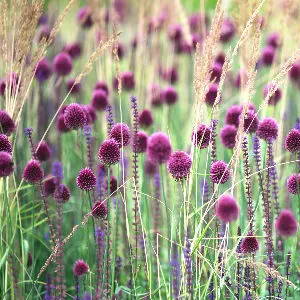 Tall alliums paired with tall ornamental grasses create a balanced effect of lively and calm colours. Alliums come in a range of colours from purple, white and blue. Create a mix your favourite colours from the tall-plumed ornamental grasses. Plant the bulbs around the ornamental grasses at a depth of 15 cm, with 15 cm between each bulb. The ornamental grasses will add a touch of calm to their surroundings. You can cut both alliums and ornamental grasses and put them in a vase. That way, you can enjoy these wonderful plants both indoors and outdoors.
Tip: Dry and dye pampas grass so you can keep it indoors for longer. You could go for a full bouquet in pink, for example.


2. Daffodils & ornamental grasses
A golden combination: daffodils and ornamental grasses. The golden yellow of the small daffodils along with the brown or green of the taller ornamental grasses creates an undulating effect. The daffodils begin to bloom in early spring. They create an explosion of colour set against green ornamental grasses. Plant the bulbs approximately 45 cm apart and 45 cm deep, in full or half sun. Once spring is over, simply leave the naturalising bulbs in the ground and they will reappear the next year.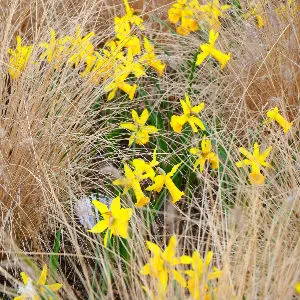 3. Alliums & Geranium himalayense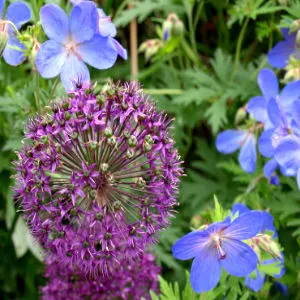 Alliums are a popular favourite for late spring. That is why they are making a second appearance in this top five. Reaching heights of up to 65 cm, they soar above the geraniums (which grow to around 30 cm). The purple flowers of the allium combine with blue geraniums to create a charming colour effect. This combination is also attractive to butterflies and bees. Later in the year, the geranium leaves turn wonderful autumn colours. This way, you can enjoy range of stunning colours all year round, with every season having its very own colour.
4. Crown imperial & lavender
If colour combinations aren't enough for you, then this royal combination is ideal. The crown imperial and lavender may not look like they go together at first glance, but they combine to create an unexpected sensation. Both are sun-worshippers that grow tall. Crown imperial (Fritillaria imperialis) is a special, naturalising bulb from the fritillaria family. The bulb grows impressively long stems of up to 120 cm with hanging 'crowns'. Crown imperials start to bloom in spring, while lavender appears slightly later. So they alternate beautifully. Plant the crown imperials 60 cm apart, at a depth of 60 cm. Both plants like a spot with full sun.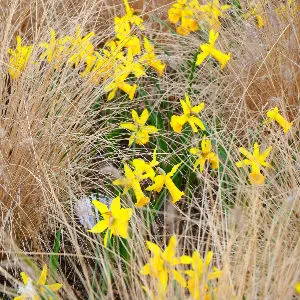 5. Autumn crocus & Camellia japonica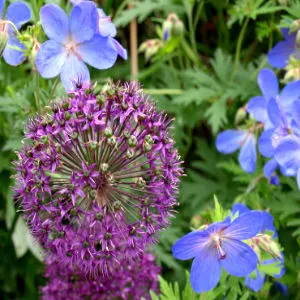 The final selection is quite an unusual combination because these plants don't really flower in the same period. But they still make a great combination. Autumn crocuses (Colchicum autumnale) flower in autumn, while the Camellia japonica flowers in early spring. So you can enjoy flowers for most of the year. You can also leave the hardy camellia outside in the autumn. Let the autumn crocus come into flower indoors first. After it blooms, plant this naturalising bulb in the open ground at a depth of 50 cm, with 50 cm between each bulb. Plant the combination in full sun or half shade. The flowers will come back each year, more beautiful than the year before.
Please note: autumn crocuses are toxic. Enjoy looking at them after planting, but do not touch them.
Creating your own combinations

Want to choose your own combinations of perennials plants and flower bulbs? You can do that, too! You do have to take a few things into consideration, however.
The planting period is important when combining plants. Put the perennial plants in the ground first and then flower bulbs. This way, the perennial plant roots won't damage the bulbs. Please note: Spring-flowering bulbsflower in spring after you plant them in autumn. Summer-flowering bulbs flower in summer after you plant them in spring.
The flowering period is critical to the end result. Do you want plants and bulbs that flower at the same time, or one after the other? It is entirely up to you. Do you want to enjoy colour in your garden for as long as possible? Consider mixing a flower bulb pack with perennial plants. Your garden will be full of colour for months on end.
Positioning is essential to the good growth and flowering of your plants and flowers. Always choose combinations that require similar amounts of sunlight, so that you can enjoy the most beautiful colours.