Autumn is coming and that means it's time to plant flower bulbs again! Planting flower bulbs is easy, even if you've never done it before. And it's also a lot of fun! Bring everyone into the garden and turn it into a family activity. With these tips and tricks, you'll learn exactly how and when to plant your flower bulbs depending on whether they are spring or summer bloomers.
What is the difference between spring and summer bloomers?

Before you start planting bulbs, it is important to know about the different kinds of bulbs. If you plant the wrong bulb at the wrong time, you'll be left with an empty garden. Spring-blooming flower bulbs include well-known bulbs such as tulips. You plant these in the autumn, so that you can enjoy the beautiful flowers in the spring, when they will bloom at the same time as the world famous Dutch tulip fields. Summer-blooming flower bulbs are planted at the same time that the spring bloomers flower. Summer bulbs, as they are also known, brighten up your garden in the summer. Spring-blooming bulbs and summer bulbs look almost identical.
If you want a sea of flowers in the spring, plant them in the autumn!
The best known flower bulbs are spring-blooming bulbs, such as those that grow in the legendary Keukenhof flower garden. The spring bloomers that show up at the party first are the snowdrop and winter aconite. After that, your spring-blooming guests will start pouring in — soon after that you can expect crocuses, daffodils and tulips to colourfully burst out from the ground between February and June.
When should you plant spring-blooming flower bulbs and when do they bloom?

Spring-blooming flower bulbs are best planted between mid-September and late December. Of course, there are always exceptions: you can wait until early spring to plant flowers such as the Amaryllis or the Lilium. The perfect time to plant is when the temperature is below 10°C. That is when you should plant your garden to your heart's content. A few weeks below 8°C is what your flower bulbs need, although just how long varies by bulb type and bulb size. The colder it becomes and the longer it stays cold, the better the flower will eventually bloom. Make sure that the flower bulbs are underground before the first frost, otherwise they may freeze. In the event of frost below -10°C, we recommend that you cover the soil where your bulbs are planted. Snow isn't bad for flower bulbs. In fact, it acts as an extra layer of insulation.
The flowering period varies by bulb type and planting period. The first bulb to emerge is the snowdrop, which makes its appearance as early as January. The Lilium is the last spring-blooming bulb to rise out of the ground. Some consider it to be a summer bulb, because it blooms in June or July. As previously mentioned, all bulbs need a period of cold to develop and your flowers will appear sooner if it's warmer early in the year (over 10°C). This means that the weather controls when your flowers bloom. The longer and more severe the winter period has been, the longer and stronger your flowers will bloom.
Want to plant your favourite bulbs? Check out the Bakker planting and flowering calendar for spring-blooming flower bulbs below: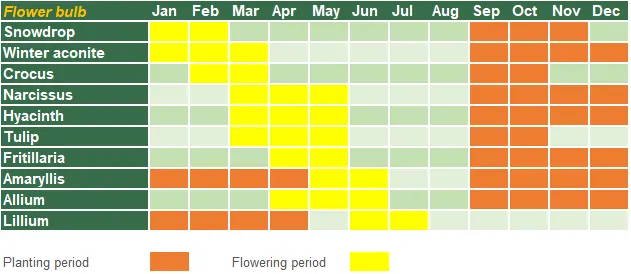 Steps for planting spring bloomers

Planting flower bulbs is very simple and creating a beautiful garden is child's play. Follow the steps below and wait for the spring:
Plant the bulbs between mid-September and late December. It is important that the temperature be lower than 10°C.
Plant bulbs that bloom in the spring in a sunny location. After the winter they need a lot of sun to bloom.
Dig a hole for a group of flower bulbs or dig small holes for individual bulbs and small groups. The depth of the hole should be approximately twice the depth and size of the bulb. Pay close attention to the distance between bulbs that is indicated on the package
Spring bloomers can also be planted in a pot. Make sure that the bulbs are not too close to the rim of the pot, because they can still be affected by the frost.
Fill the bottom of the pot with peat dust, leaves or branches. Don't feel bad for the bulbs that spend the winter outside; they need that brisk cold weather. They go into a kind of hibernation and spring back to life when the weather gets warmer again. If there is a severe frost on the way, pack the pot in bubble wrap or bring it inside to a temporary location that is not warmer than 10°C.
Always fill the flower pot or border with fresh potting soil for flower bulbs as this contains the perfect nutrients to help the bulbs develop.
Be sure to give the spring bloomers enough water. This is crucial for the development of the flower bulb's root system. When planting in a flower pot, it's important to make sure that water can drain away. Too much water is not good for the bulbs.
A scattered field of flowers or a bit more structure?

An easy way to plant flower bulbs is by randomly tossing a mix of flower bulbs throughout your garden. You simply plant them where they land and you'll be rewarded with a spring surprise: a whimsical field of flowers that you created yourself! If you like a bit more order and structure, choose a colour theme and plant different kinds of flowers in various colours throughout your garden or in pots on your patio.

Flower bulbs thrive under trees, shrubs and on the lawn. The flowers of some bulbs look lovely blooming between perennials — alliums are a particularly good choice here. Naturalising bulbs work very well for this, too. The advantage of these is that they come back on their own each year.
Please note: When you buy flower bulbs, always pay attention to a quality mark. All the flower bulbs from Bakker.com have the Holland Selection quality mark and even A status. This means that their quality, purity, colour, size and health are of the highest possible quality. Bakker.com only sells the largest bulb size on the market. These flowers bloom more vigorously, produce larger or more flowers and bloom for longer. This is why Bakker.com provides a 100% flowering guarantee on all of the flower bulbs in our range. If your bulbs are shy and don't want to come out, please send us a message.