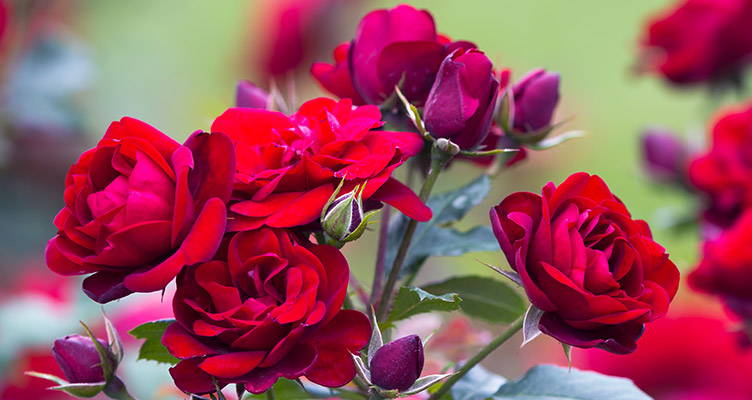 The rose flowers in June and July. This used to be the time when everyone went out to buy rose bushes because it was possible to smell the flowers during the flowering season. Nowadays though, you just need to order them from Bakker.com - and the choice is huge!
Unlike most garden centres, Bakker.com sells rose bushes that have been grown on in garden soil but are delivered to you bare rooted. All these outdoor rose bushes have at least 3 strong branches which make them immediately recognisable as A-quality plants, as well as giving you the best guarantee of a healthy root system, excellent flowering and full growth.
Start with perfect garden soil
Roses like permeable, humus-rich and fertile, slightly limey soil. Before you plant your rose bushes, loosen the soil with a spade. Soil that is too wet can be very detrimental to your rose bush developing properly. This also applies to dry and sandy soil. Whatever type of soil, it is advisable to dig a large hole and add some special rose potting compost. Keep your rose bushes strong and healthy with rose fertiliser containing trace elements (low nitrogen content plus sufficient magnesium and potassium). If you really want to follow the textbook, cultivate the soil in spring and work well-rotted manure through the soil. Then the soil will be perfect for planting roses in the autumn.
Planting rose bushes
Rose bushes in the garden
You can plant rose bushes in the garden from mid-October to the end of April – just the time when Bakker.com supplies and delivers them. It's not a problem to plant in the winter months, as long as there is no frost, or snow on the ground. The advantage of planting late in the year is that your rose bush will have all winter to develop a strong root system and will flower the following spring.
All roses have one thing in common – they love an airy and sunny spot. Apart from that, each variety has its own preferences. For instance, large tea roses like full sun while ground cover rose bushes will be happy enough in partial shade. Among botanical rose bushes however, there are some varieties that will only thrive in shade. Watch out too for the roots of nearby trees as they tend to take all the moisture and nutrients from the soil, making them rivals of your rose bush. Bakker.com provides information on the packaging regarding your rose bush's planting preferences and best location to make it as easy as possible for you.

Upon arrival, the roots may look a little shrivelled, so it's always best to drench them in a bucket of lukewarm water overnight prior to planting. Prepare the soil first, digging your hole deep and wide enough to include the roots in their natural spread without having to bend them – they need to remain spread out. Plant at the right depth – the grafting point (the thicker part on the stem where it branches out) is frost sensitive so it needs to be 3-5 cm under soil level. Shake the rose carefully when filling the hole to ensure as much soil is in between the roots as possible. Improve the soil with some well-rotted manure and garden compost and fill the hole with it. Heel well in and water generously. Earth up around the base to get the rose bush through the winter.

Rose bushes in nursery pots
Rose bushes delivered in a nursery pots can be planted at almost any time of year, except during periods of frost – always wait until all the chance of frost has passed. Soak your rose bush in a bucket of lukewarm water for half an hour prior to planting. Dig a spacious hole and always loosen the soil thoroughly with a fork. Remove the rose bush from its nursery pot and plant it at the right depth:
Roses with a grafting point and grown in nursery pots have a frost sensitive grafting point to take into account (the thick part where it branches out). This should be planted about 3-5cm below soil level. Fill up with improved soil, press well in and water generously. Earth up around the base of the plant as extra frost protection for the grafting point.
Roses grown from cuttings in nursery pots, of course don't have a grafting point. Make sure the top of the root ball is just below soil level. Improve the soil and fill the hole with it. Press firmly and water generously.
Planting distance
Ground cover rose bushes, raceme roses and large teas should be planted at a distance of 35-45cm apart. Standard rose bushes need to be 80-100cm apart and climbing roses should be at least 1, or even 2 metres apart.
The best thing about climbing roses is that they can be planted almost anywhere. They are perfectly happy climbing over an old hedge or fencing and can enhance a rough-looking wall. There are of course a few tips, so if you want best results, be sure to:
Use fertile, airy and permeable soil
Give them a sunny, airy spot.
Give them a sheltered spot protected from the wind.

You also need to make sure that:
You feed your roses regularly - give rose fertiliser with a low nitrogen content that is high in magnesium
You water your roses regularly (especially in warm weather - 22° C and higher - in their first growing season)
You give them a regular health check for pests and diseases
Up a wall
Most walls are suitable for a climbing rose; in fact the only walls you need to avoid are those that are too sheltered, or directly south facing. A south-facing wall can actually get too warm, thereby drying the plant out. If you want your climber to cover a wall, this is what you need to do:
You need a trellis attached to the wall. Allow an inch or so space between the trellis and the wall for sufficient air circulation.
Plant the rose about 30 cm from the wall. Any nearer and the soil is sure to be too dry.
Choose four or five of the main branches to tie onto the trellis.
Water generously after planting.
Over a pergola or obelisk climbing frame
Of course in addition to planting roses on a wall, you can also train climbing roses up and over a pergola. In which case, it's good to use several plants on either side of the pergola so they grow through each other and form a roof. If you train your roses well along the structure of the pergola, you will see a good result within a year and for maximum results within three years.
Potted rose bushes
In principle, most rose bushes can be planted up into a pretty planter, the idea being that you can easily move the pot to a better position at a later time. However, do start off by choosing a sunny and open spot, if possible. When potting a rose bush, use Bakker's special rose bush potting compost. Unlike other perennials, a rose bush will root deep but not wide. Did you know that the roots normally end up around two thirds of the final height of the rose? Once the roots reach the bottom, the plant stops growing, so always use as large a planter as you can and repot regularly to match the growth of your rose bush. Roses that grow up to a maximum height of 80 cm are the types best suited to being potted. Potted rose bushes require lots of watering.
Here's a list of handy tips to make it as easy for you as possible:
Use a pot with good drainage
Layer the bottom of the pot with gravel or hydro-pellets
Cover them with a layer of rose bush potting compost
Be really careful removing the rose bush from the nursery pot – you must not damage the roots
Make sure you cover the grafting point (the thick part where it branches out) by earthing up around the base with extra rose bush potting compost. This protects the plant from frost damage.
Rose bushes grown from cuttings of course have no grafting point. The top of the root ball of these rose bushes should come to just below soil level. Fill the plant hole with soil and press firmly.
Water generously after planting and then regularly!
Await the opening of your first buds in the summer months.
Feeding your rose bushes
Roses need a lot of fertiliser. We advise using rose fertiliser every 2 or 3 weeks in April through to July. Try Bakker Rose Fertiliser - your rose bushes are sure to flower even more abundantly.