3, 2, 1… Boom. These indoor plant sets will take an empty, dull room and turn it into a colourful and atmospheric space. Why stop with a single plant when you could go all the way? Fill your entire room with plants of all shapes and sizes. The indoor plant sets listed below have been specially designed for you to give your house a quick and easy green makeover.
1. The air-purifying set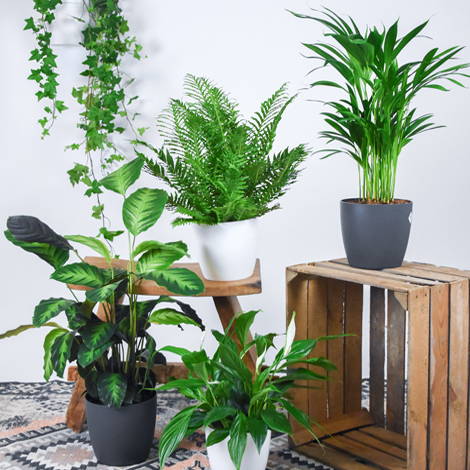 Not only does this indoor plant set look lovely in your home — it also enhances your living environment. The plants in the set remove all kinds of pollutants from the air and convert them into oxygen. Whether you need cleaner oxygen to improve your concentration when working or to sleep more peacefully, these plants will be a great help for you. So turn your bedroom or office green now!
This indoor plant set is ideal for beginners. These plants are easy to keep alive, no matter who is caring for them. The indoor plants are easy to care for, meaning you can enjoy the greenery they bring for a long time. All you need to do with these plants is put them in a bright spot without too much direct sunlight and keep the soil slightly damp. With their green leaves and golden decorative pots, they'll add a splash of colour throughout your entire house for a long time to come.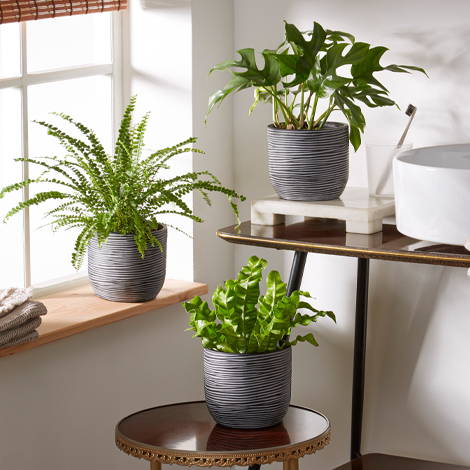 Everyone's heard of doing yoga with your plants, but now you can have a bath with your plants too. After a stressful day, it's wonderful to sit back and unwind in your own bath surrounded by beautiful plants. Many plants struggle in the bathroom due to the humid air and low light levels, but these plants love that climate.
The name says it all — this plant set makes you feel like you are staying at the fanciest of hotels. Just like hotel rooms, every normal bedroom also needs a touch of green. Transform your bedroom into a deluxe suite and enjoy the luxury that your plants bring. Sorry — room service not included.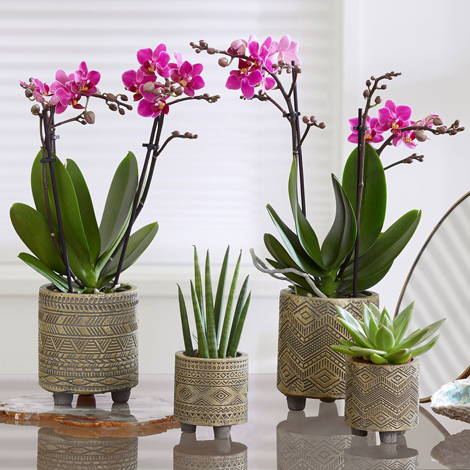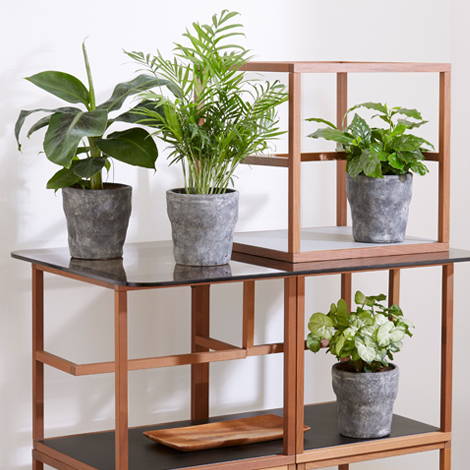 Do you always keep up with the latest green trends? You can bring yourself right up to date with the trendy indoor plant set. These tropical houseplants make for popular living room plants. This will give you a head start on creating your own urban jungle. To make it easy for you, this set comes with beautiful contemporary decorative pots. There's nothing more you have to do.
6. Large indoor plant set
Big, bigger, biggest indoor plant set. We know that you're always looking for more greenery in your home. These large indoor plants fill your house with joyful greenery. If you have a lot of large indoor plants, it'll feel just like you're in a jungle. Fill the living room with green charm.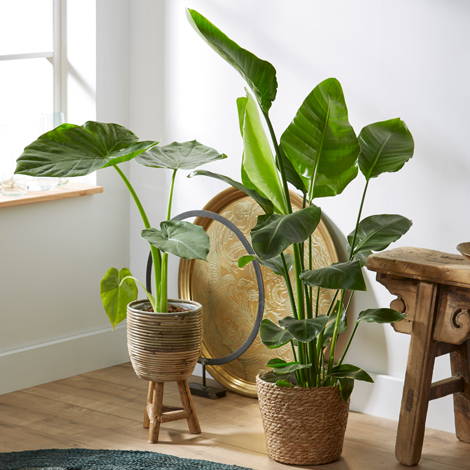 We do our utmost to make sure that your plants arrive safely and in the best possible conditions. Interested to see how we pack our plants and plant sets? Take a look at the video below.