Orchids are a wonderful addition to every home and every room. Almost everyone is familiar with this beautiful plant with its colourful and sometimes fragrant flowers, but all the special features of this plant are perhaps not as widely known. Did you know, for example, that these beautiful plants all have their own special properties? And that they also need special care? We tell you everything you need to know about these exquisite and colourful plants.
The most special orchids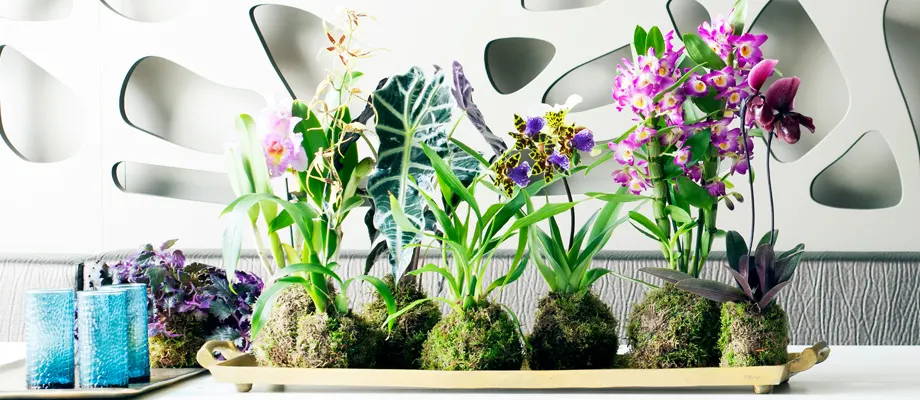 Each orchid has its own special qualities and characteristics. The Phalaenopsis is the most famous genus — these orchids bloom for at least three months and may even produce flowers multiple times in a year. Factors that point to the quality of the Phalaenopsis are the number of stems (an average of two), the quantity of flower buds, the particular patterns on the flowers, the height of the plant and the size of the flowers. At bakker.com, we have extra-large Phalaenopsis orchids such as our pink Phalaenopsis and our 'White Giant'. These can grow as tall as 80 cm(!), while an average Phalaenopsis grows to just 60 cm. In addition, all of our Phalaenopsis varieties have more flower buds than average.
We have lots of other special orchid species in addition to the popular Phalaenopsis. If you are looking to add a beautiful plant to your home, these species really should be on your shortlist:
Would you like to add more colour to your home? If so, the Dendrobium Nobile is just what you need. This beautiful orchid blooms along the entire stem. Pink or white? Or a combination of colours? You choose what suits you the best.
Are you keen to add a wonderful scent to your home as well as some beautiful colours? The Miltonia and the Bratonia could be the perfect fit. These orchids have a pleasant aroma, so you can enjoy the fragrance and their colourful appearance all day long!
The Dendrobium Sa-Nook comes from Thailand and is available in a variety of colours. Do you want to add an Asian influence to your home? If so, this orchid is perfect for you.
Caring for orchids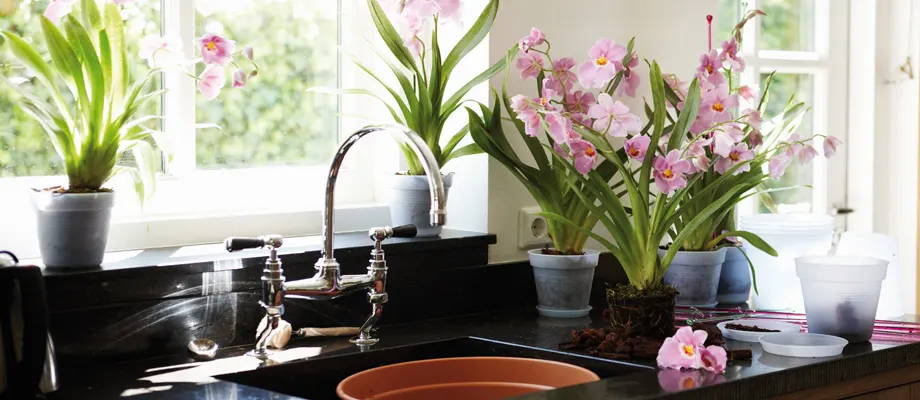 Orchids are known for their wonderful colourful flowers. There are a few points to consider when it comes to getting the best out of these sensitive flowers. First of all, it is important to choose the right potting soil for your orchid. Did you know that there is special potting soil for orchids? Don't worry if you didn't — you're not alone. Just 10% of plant owners buy the correct potting soil for their plants. Using the correct potting soil and plant food will ensure that the orchid produces more flowers and stays free from disease for longer.
Here is our step-by-step guide to planting an orchid:
Take a clean pot and add a layer of hydro grains. Hydro grains provide good support for the roots and work well as a drainage layer. Add the potting soil on top of the grains. We recommend using orchid potting soil that has the RHP label. This potting soil is free from pesticides and pathogens. Orchid roots need a lot of air. That's why special orchid soil contains bark — because it creates a particularly airy structure. The roots can quickly turn brown in the wrong potting soil, or may even rot. Before planting the orchid in the pot, remove any dry and damaged roots from the orchid and immerse the good roots in water for a short time. Finally, place the orchid in the pot with some more potting soil and press down lightly.
After this, it is, of course, very important to give the orchid the right nourishment. Water the orchid about once a week by immersing it in water for a short time — orchids do not like wet roots. Fertilisers are very important when it comes to helping orchids to thrive, but just 20% of plant owners use fertilisers. Orchid potting soil contains enough food to last for around 60 days — after that, give the orchid some feed/fertiliser once every two weeks. This will help the orchid to produce more flowers and stay healthy for longer.
Top tip: Do you want to speed up your orchids growth? If so, put it in a very cold place — survival instinct will make the orchid come out more quickly.
Quality is paramount
The quality of our range of plants is paramount, and our orchids are no exception. We have worked with our growers to select a number of different plants that will stay looking fantastic in your home for ages. This is evident from the size of the plant, the number of buds, the number of stems and the structure of the leaves. And this is where you can see the difference between our orchids and the ones that are on sale at supermarkets and garden centres, for example.