Air-purifying plants not only go hand-in-hand with the current botanical trend, they also improve the quality of life in your home! These special indoor plants remove harmful substances from your house and release healthy oxygen. They also help to maintain the humidity in your house. This means that these plants are good for your health and concentration in the long term. The bestsellers within our range of air-purifying plants are the Spathiphyllum (peace lily), Nephrolepis (sword fern) and Hedera (ivy). The Hedera can of course be used as both an indoor plant and a garden plant.
Spathiphyllum
The Spathiphyllum (peace lily) is highly popular thanks to its soft green leaves and ornate white flowers (bracts). This plant from the tropical rainforests of South America is easy to care for and is an air-purifying plant. The leaves on these indoor plants will droop if the plant gets too dry, but will perk up again in a few hours once watered. The Spathiphyllum likes to be in a bright spot, but out of direct sunlight.
Nephrolepis
The Nephrolepis (sword fern) is a beautiful foliage plant that is another of our air-purifying options. Ferns have grown on Earth in a wide variety of different forms since the Devonian period (400–350 million years ago). Nephrolepis is found in tropical rainforests worldwide, so the fern will be perfectly fine if placed somewhere that does not get much light. This bushy fern with feathered leaves is one of the most effective air-purifying houseplants for the home.
Hedera
A real evergreen among the air-purifying plants is the Hedera (ivy). Ivy leaves come in a wide variety of shapes and colours. The leaf colours range from solid green to multi-coloured and marbled. In its natural habitat in Asia, Europe and North Africa, this air-purifying indoor plant grows on rocks and trees. Hedera is able to climb to height of up to 25–30 metres. Hedera can be used indoors as a climbing shrubs against a 'green' wall, for example, or as a hanging plant. The Hedera prefers cool, bright spots, but out of direct sunlight. The lighter the colour of the leaf, the more light the plant needs. The greener the leaf, the less light it needs. Outdoors, the Hedera is perfect for growing against a fence or an empty wall. The plant will attach itself to the supporting structure and grow until it has nothing else to grip onto. The Hedera will then come into flower.
We do our utmost to make sure that your plants arrive safely and in the best possible conditions. Interested to see how we pack our plants and plant sets? Take a look at the video below.
NASA researches 'air-purifying plants'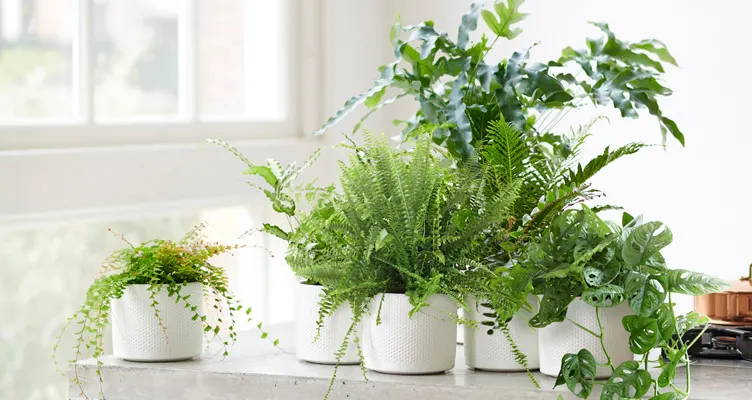 The NASA Clean Air Study has carried out a lot of research on air-purifying plants. To have a real effect, NASA recommends at least one indoor plant (pot size 15/20 cm) per 10 m². The amount of soil is also important because micro-organisms in the soil absorb small amounts of impurities in the air. Air-purifying plants are not only recommended for home use, but also in offices or school classrooms.