Nothing beats the fun of using greenery to transform your home! Whatever room you choose, plants will make you happy and are good for you into the bargain. But you still need to put your plants in something – flower pots are the standard choice, but why not go for something different? After all, baskets are right on trend and suit practically any indoor plant.
Transport yourself to the tropics in the blink of an eye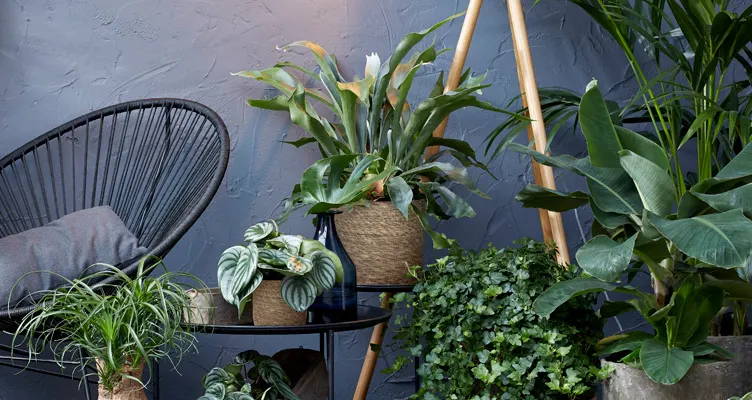 Baskets are often made from reeds, jute or rattan; jungle materials that will also steal the show in your home. Try putting one of your indoor plants in a basket to give it that jungle look that works everywhere for a really easy way to upgrade your living room, bedroom or bathroom with greenery.
The chameleon among your flower pots
Baskets go with anything thanks to their neutral colour. Whether your plants feature just one colour or an entire rainbow, baskets are the ideal choice. They are also the perfect way to add a much-needed touch of calm to a specific corner or bare spot in a room.
And if you decide to position the basket so that it stands apart in the room, then that will simply highlight the plant that rises out of the basket.
Best plant-basket combinations
In principle, you can choose any plant to go in a basket; the only thing you need to consider is the pot size, just like you would with a flower pot. Bakker.com has made life easy for you by creating a number of plant/basket combinations featuring some favourite plants.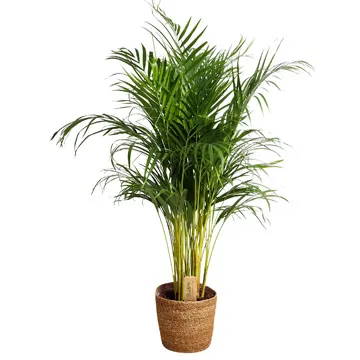 Areca palm: stylish & fresh
This magnificent spreading palm will create a real impact, wherever you position it. Its lush profusion of leaves will create a real jungle feeling — perfect for that empty corner in your home. It's also ideal for bedrooms, especially as it will also purify the air. Comes in a woven jute basket for a great look.



Monstera deliciosa: top favourite
How cool does this Monstera look in its bamboo basket? Perfect for on a table or it will also make an impact when placed on the floor. This plant is a long-standing favourite of ours and really stands out thanks to the perfect leaves with the holes formed by the plant itself.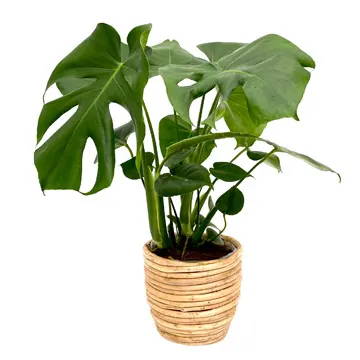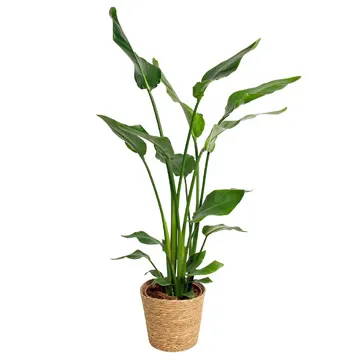 Strelitzia: ultimate jungle feeling
Wow, the Strelitzia plant always looks at its best. This is the perfect choice to add vertical greenery, which will really make it stand out. Comes in a great basket made from woven palm leaves for a great finishing touch!
If baskets aren't your thing, we also have great combinations with flower pots!