Once the summer is over and the weather gets colder and more rainy, tending your garden often becomes more of a distant thought — but we really would recommend that you get gardening! Planting in autumn offers a host of benefits when it comes to the growth and flowering performance of your shrubs, trees, hedges and perennials. Read on to find out everything you need to know — and we hope this overview will encourage you to get gardening this autumn.
1.     Dormant plants create the best foundation
Most plants only begin to grow in spring. So why is it advisable to plant them in autumn? There are definitely good reasons for this approach. In autumn, the sap flow within the plants gradually slows to a stop. At this stage the plants enter a kind of dormant state, and this is the moment when they are easiest to plant or replant.
2.     The best soil conditions
Another factor is that the soil is still warm at the start of autumn and it retains plenty of moisture due to rainfall. The roots of shrubs, perennials, trees and hedges love warm, slightly moist soil — it allows them to develop well before winter arrives. If you wait until spring before you plant them, the roots will still need time to develop and the plants will flower later or be less robust. New roots need more water to help them develop, and in autumn they will get plenty. In spring, however, there is a greater risk of the plants becoming dehydrated, which is why regular watering is required.
3.     Root development before winter
Finally, planting in autumn gives the plants time to prepare for the cold winter months. The roots have chance to become stronger in the run-up to winter, so that they can withstand the cold better once winter really begins.
'Forget-me-not': Prepare your garden for spring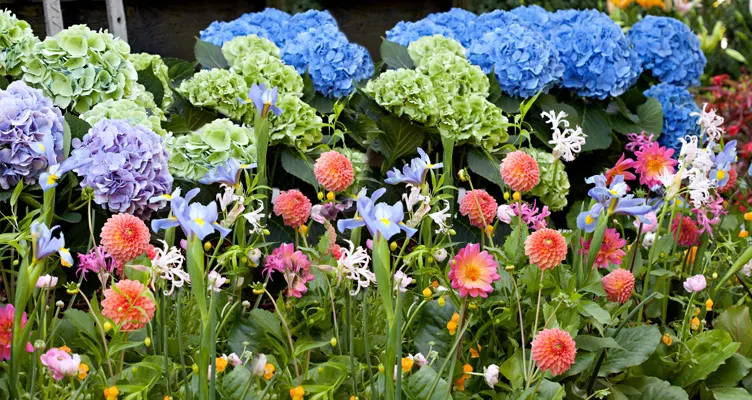 There is a lot to be done in your garden during the autumn months. The annual flower bulbs from last spring and summer can be dug up, and it is also the best time to start pruning. This includes plants such as your butterfly bush and rose bush as well as your fruit trees. Click here to find out about the best time to prune various shrub. Once your pruning is complete, your annual bulbs have been dug up and you have raked up your garden waste, you are ready to begin planting. Prepare the ground thoroughly before you start planting. Most garden plants love soil that has plenty of nutrients and offers good drainage. Loosen the soil well and mix in fresh potting soil or organic fertiliser to add nutrients. Now you can get stuck in and get your hands dirty! Do you want to relocate your shrubs, hedges or trees? If so, autumn is also the best time of the year for this sort of task. Read more about replanting in our article "Become a landscaper!". These plants form the green heart of your garden.
Do you like to see your garden flooded with colour in spring? Well there's no time like the present — bulb planting season begins in autumn. Plant up your borders and flower pots with your favourite flower bulbs. Do you know the best way to plant flower bulbs? Read our article "Planting bulbs — it's a breeze!". Remember to think about combining bulbs with perennials, too. This produces an amazing array of colours in spring. Do you prefer pot-grown roses? Or maybe you'd like to be your own landscaper with our bare roots/rhizomes? These perennials may look like dried out roots right now, but they grow even stronger in spring and will provide even more beautiful blooms. Keen to know more about these bare-rooted plants? Read this article.
In summary, enjoy tending your garden this autumn and sow the seeds for a beautifully sunny spring. Are you looking for the most beautiful trees, hedges, shrubs and perennials? Visit our webshop now! Our flower bulbs are also worth a look.
Bakker.com always supplies quality bulbs of the largest bulb size. This creates bigger, stronger flowers that bloom for longer. Our bulbs have also been awarded the Holland Selection Quality Mark Foundation quality mark. This means we can offer a 100% guarantee on growth and flowering.