Spring is approaching! The time has come that we can venture outside again to start work. Balconies and gardens will be planted once more so you can enjoy the most stunning plants and flowers in spring, summer and even autumn. Spring is a crucial time for plants due to all the early greenery and colour, and also for deciding how you want your garden or balcony to look in the summer. For example, summer bloomers need be potted once more. If you have read our article about getting your garden ready, you will already know that now is the time to prepare for the spring. Is your balcony or garden already prepared for the planting season? Then the next step to make a plan of where you are going to plant what. Do you need help with this? Not a problem. We'll share our tips for creating your own garden or balcony plan.
Step 1: Decide the spot you want to plant

You can organise the greenery and colour for your outdoor space in a variety of ways. Whether you have a small garden or even a balcony on the 4th floor in the city centre, you always have options for organising your outside space. To do this, it is important to draw up a plan of where you are going to put what plants or bulbs, and to assess how much space you have. Find options and sizes below of what you need to consider.
Essential: the number of square metres to be used.
This also applies to borders in the garden.
Options and space for pots on the balcony, in the garden or in the front garden. When potting bulbs or plants it is important to see how many litres fit into one pot. This way, you can figure out how many bulbs you can plant in the pot or the maximum size the plant can be.
The height when you have a smaller surface area to plant. For example, hanging planters on the railing.
Communal flower beds in a street that is not always maintained by local authority. You may like to decorate this space with your own choice of flower bulbs.
The surface you want to plant is very important so you know how many bulbs and plants you need to buy. In addition to bulbs and perennials, you can also turn your garden into a grassy lawn. Are you even considering adding a touch of colour to the fence? Replace it with a beautiful green hedge. The possibilities are endless. You could even hang flower baskets from it.
Step 2: Be the stylist for your own balcony or garden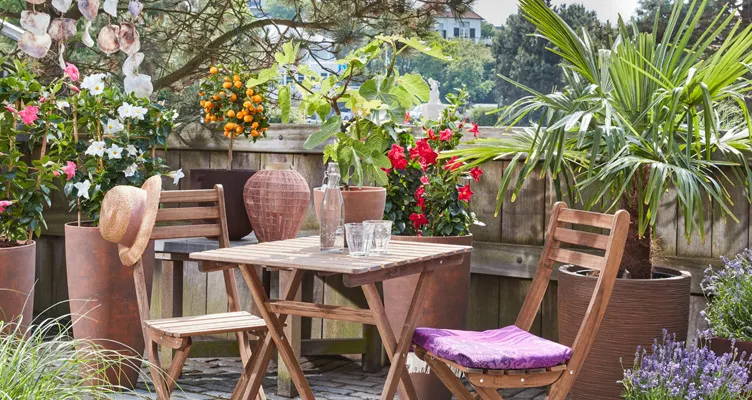 Once you have decided which areas you are going to plant, you can progress onto the style that best suits you. Will you choose a Mediterranean garden with an exotic atmosphere or simply a sleek Asian-inspired style? Are you fan of bright colours or do you want to create a more peaceful space outside? These are important decisions to make. Have you already come up with the style you want? Then you can start looking for the products to match it. Alongside colour and style, it is also important to consider the amount of sunlight some plants need. Do you live in a place where the plants are in the shade most of the time? Look for bulbs or plants that don't require a great deal of sunlight to grow.
Still looking for a style for your garden? We have a few suggestions for you.
Still not sure what style suits you or do you want something completely different? Then let us share some more suggestions with you:
Do you want to see more butterflies in your garden? Take a look at our 'Butterfly' border packets. They will create a beautiful garden bursting with flowers that attract the most stunning butterflies and bees.
Do you need more inspiration for your garden? Read our gardening article. We also have articles about giving your front garden, balcony or patio a green twist.
Step 3: What garden tools do you need?
Make life easier for yourself by using the right garden tool. We have made a list of recommendations for you.
Step 4: How about a pond?

A garden pond is gorgeous and cheerful. They provide a cooling effect on hot summer days. All sorts of creatures will be drawn to your garden to take a refreshing sip of water. If you want a pond in your garden, it is important to include it in your garden plan. The pond can be as big and wide as you like. The depth is also a very important consideration. A fish pond, for example, must be at least 80 centimetres deep. Do you want a swimming pond in the garden? Then you should think about going even deeper than 1.5 metres. It is also important to make several zones of differing depths in the pond. This is necessary in order to give the right water plants a place. Pond plants, especially oxygenating plants, are essential in the prevention of algae. The more plants in the pond, the lower the risk of algae. Would you like to know more about planting these pond plants? Then read the following blog article about pond plants.
Tip: Don't have a big garden, but still want a pond? Then get a crystal clear patio pond! These lovely compact ponds add a festive touch to any garden, balcony or patio.