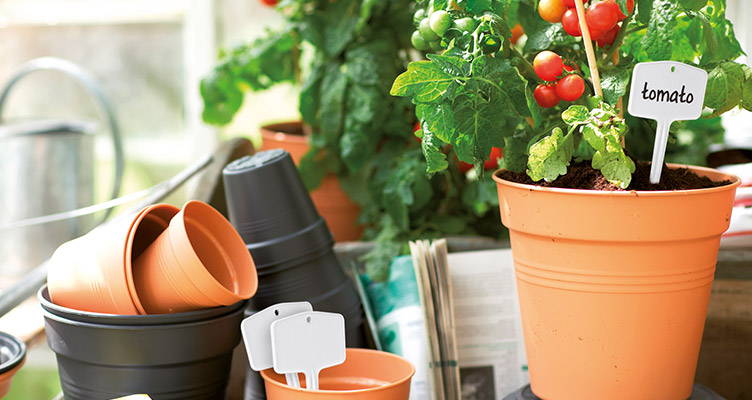 You really don't need a large garden to grow your own fruit and vegetables because most of these will also thrive in pots and planters. In fact, the patio or decking is actually the perfect spot for growing-your-own as the ground tends to warm up faster there, meaning seeds germinate faster and seedlings will grow quicker too. Of course there is the added advantage that potted fruit and veg. plants are less liable to pests and diseases. So let's get started!
All these items listed here are perfectly suitable for growing in pots and planters:
Tomatoes
Strawberries
Beans
Carrots
Peas and Pods
Radishes
Choose the right pot for the right plant
Fruit and vegetables can be planted in pots and grown on, or start them off yourself by sowing them into pots and planters. Give larger varieties a pot at least 50 cm deep and 50 cm across. Smaller varieties can go in pots and planters 25 deep, 25 across. Keep in mind that the smaller the pot is, the more frequently you need to water the plants. Do also ensure drainage holes in the base, for obvious reasons. Check out the following link for our collection of outdoor pots and planters.
Type of soil
You do need to ensure that you use the right type of soil in each planter. This will also often depend on exactly which vegetable you want to cultivate. Normal potting compost is usually sufficient but for a number of plants it can be particularly important to know that you need to supplement this soil once or twice during the growing season, with fertiliser of some sort.
Raised Kitchen Garden Bed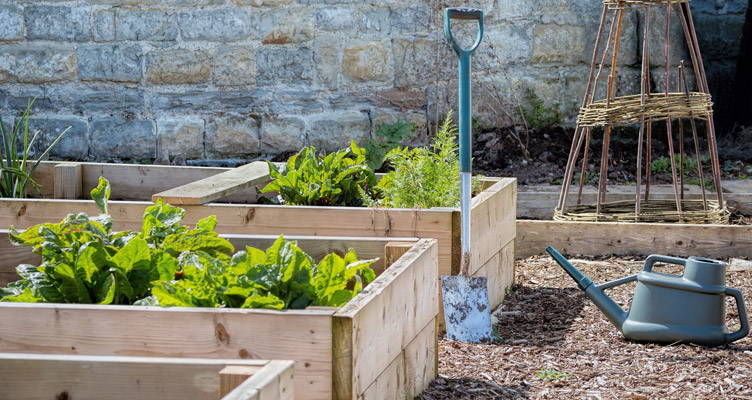 You could really easily have a raised bed for a kitchen garden on your patio or decking. If you choose one that doesn't have many divisions, use plants that:
You will use a lot
Are fast growing
Are expensive to buy (think 'herbs')
Are easily grown


Have fun with your kitchen garden!