All you need to know about ground-cover rose bushes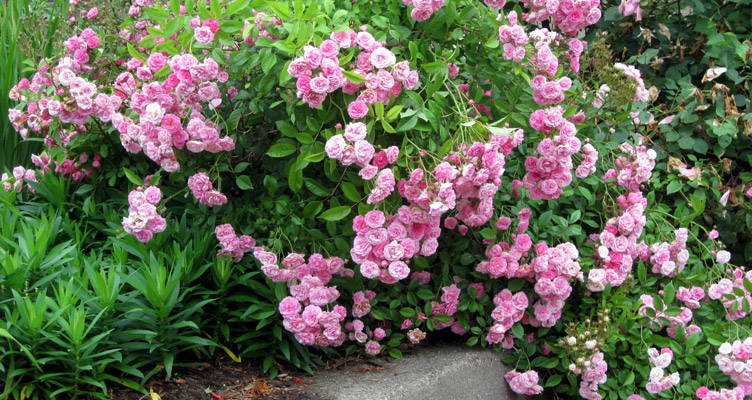 Ground-cover roses are strong, low-growing rose bushes. These rose bushes grow quickly and provide a colourful carpet of flowers in your garden. As they are undemanding and extremely versatile, ground-cover rose bushes are ideal for gardeners!

Rose bushes(Rosa polyantha) are very popular plants to use as ground cover. They soon spread out, creeping over the ground and flower for a very long time – perfect for filling your border with colour. They look lovely planted in ornamental planters as the flowers cascade over the side of the pots. Ground-cover rose bushes produce beautiful little roses in huge numbers - for the most dramatic effect, plant them in groups. The wide spectrum of flower colours ranges from pink, white, red and yellow and they flower from June well into the autumn. When you think about it, that's a long time!
Planting Ground-Cover Rose Bushes

Bakker.com supplies ground-cover rose bushes already planted up in nursery pots. Ground-covering roses prefer a nice sunny or partially shaded spot, and soil that drains well. They will do particularly well in open areas or at the edge of your garden. These plants are hardy but not evergreen. Prior to planting you should thoroughly soak the roots, then dig a wide enough hole and carefully remove the plant from its pot. Plant the entire root ball at the correct depth so that the stem is slightly under the soil surface; the plants will then be protected from frost. Fill the hole with good soil, heel well in and water them thoroughly again.
Something for everyone
Ground-cover roses are great for combining with shrubs, as well as with flowering perennials. There's something for everyone at Bakker.com - take a look, you are sure to find one that appeals to you. We've listed a few special ones here:

ROSA POLYANTHA BABY CARNIVAL
This small-flowered rose starts off yellow but turns pinker as it matures. So attractive!

ROSA POLYANTHA FAIRY DANCE
Small ground-cover rose 'Fairy Dance' produces lots of tiny pink roses on long, flexible stems. This rose gives off a sweet scent.

ROSA POLYANTHA PINK FAIRY
'Pink Fairy' is a very popular rose and flowers all summer long, right up to the first frosts in the autumn! 'Pink Fairy' is well known for its pale-pink double-rosette-like flowers.

ROSA POLYANTHA WHITE FAIRY
The creeping rose 'White Fairy' has small white flowers. The elegant flowers contrast rather wonderfully with the dark foliage. Thanks to its classic appearance, 'White Fairy' is the perfect addition to any rose bed or garden.
Ground-cover rose bushes can be rejuvenated in a four-to-five-year cycle; that's when they can be cut back fairly hard to about 30cm. The older branches can be removed regularly which also helps rejuvenate the bush, and any shoots that are too long can occasionally be trimmed.
Caring for ground-cover roses
After pruning you need to fertilise well. Ground-cover roses require quite a lot of food and water. From their first pruning you should feed them fortnightly as well as watering them, and don't forget to deadhead them regularly. Ground-cover roses keep your soil naturally free of weeds. Leaf litter is best removed to help prevent fungus, pests and diseases.