Ornamental grasses have become extremely popular in recent years. Due to their attractive appearance and the fact that many varieties stay green in winter, these plants are a useful addition to any garden. They are ideal as a background for perennials and are perfect for planting in large groups. They can also be used to create a special accent. Ornamental grasses are durable, low-maintenance garden subjects, which is another good reason to include them in your garden design. In autumn, when most other plants have passed their prime, the ornamental grasses are at their best.
Here is our 4 favorites:
1. Festuca glauca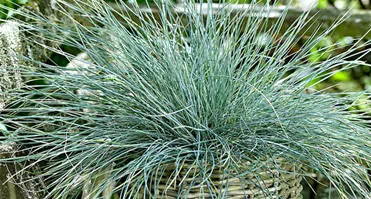 Festuca (blue fescue or blue mountain grass) is an easy, fairly low growing, evergreen, ornamental grass that requires little or no maintenance. The poorer the soil, the bluer the grass will grow. This grass grows in clumps and will not spread like other varieties do. A good ground cover plant, Festuca glauca originated in the
South of France and has rather striking, narrow, blue-tinted foliage that will remain so over the winter. Will grow seed heads in the summer, first in the colour of the grass but later turning to straw yellow. Lovely, good deep blue varieties are Festuca glauca 'Elijah Blue' and Festuca glauca 'Intense Blue'. Both grow to around 40 cm tall.
2. Cortaderia selloana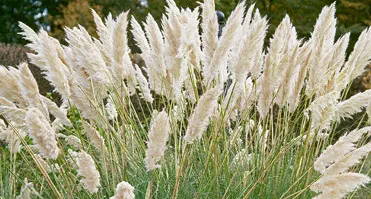 Pampas grass (Cortaderia selloana) is really one of the most lovely of all ornamental grasses. This is a plant that grows big and combines wonderfully with loads of other plants. Stood on its own, pampas grass really makes a statement too. This plant is (practically) an evergreen!
The large plumes start to appear in September and they remain looking good for as long as the weather doesn't flatten them. It's only really in very severe winters that the plant will die completely back but it will always shoot up in the spring again.
3. Carex testacea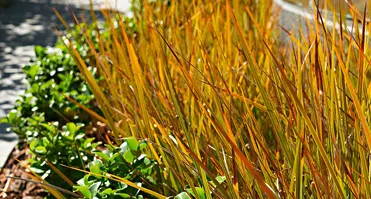 This is an evergreen ornamental grass (a sedge) from New Zealand that will be noticed for the lovely olive green (fading into orange), spiked foliage. This ornamental grass flowers with striking, reddish brown plumes that will remain on the plant over the winter. Gives a really pretty mix of colours that vary through
olive green, to yellow, to orange, brown and red. Really very decorative! Carex testacea 'Prairie Fire' is actually pretty to see all year round.
4. Cortaderia selloana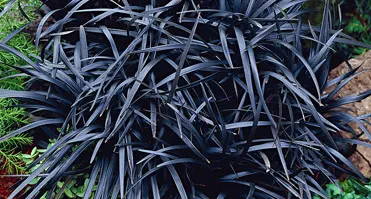 Ophiopogon planiscapus 'Niger' is not officially a grass at all but it does rather resemble one so fits in here. This hardy perennial will soon be noticed with its long blades of blackish purple leaves. This plant will not grow taller than 15-20 cm. The leaf feels leathery, with a waxy surface and the plant will flower with white to pale pink blooms in August through September.
This is a plant that will spread via sucker plants so is certainly easily kept in tome. Similarly to the Festuca (blue mountain grass) it grows clusters of pointy leaves, offshoots, on the end of a sucker. Once this sucker establishes, a new cluster will appear on yet another offshoot… ad infinitum.

Add accent to the garden
Ornamental grasses in general, and Festuca glauca in particular, add just the right accent in any border. Here you can see Festuca glauca subtly finishing a garden full of various hardy perennials like turtlehead and common cottongrass.
Tip: Plant ornamental grasses here and there around your garden. Have the same variety appear in several places as added accent. This keeps your garden optically unified.
Adds privacy
In groups or on their own, ornamental grasses are always good to have around. Large groups of ornamental grasses can be the ideal solution for hiding an ugly corner, or a view that needs hidden. In such a case you will definitely want one or more of the bigger varieties, like pampas grass.
Tip: Do remember that ornamental grasses need cut back in early spring. There will therefore be a period of 2 months or so without your grass 'screen'.
Ornamental grass in pots and planters
With so many varieties in shape, colour and height, ornamental grass lends itself wonderfully to pretty planters. Perfect for adding a nice eye-catcher to your patio or decking.
Tip: Try using a white pot. Combined with the dark foliage here, it will make a fabulous contrast!
Create some autumn splendour
Ornamental grasses are particularly lovely towards winter, just when all other plants are dying off.
Tip: Carex testacea is one of our favourites for a really fabulously colourful effect in the garden!