Do you like gardening, but find it difficult to get the perfect mix of plants for your garden? Then border collections are exactly what you are looking for. Border collections consist of combinations of perennials that will look beautiful in your garden borders. These perennials also return every year. So you can enjoy stunning garden plants year after year.
It's easy to get a gorgeous result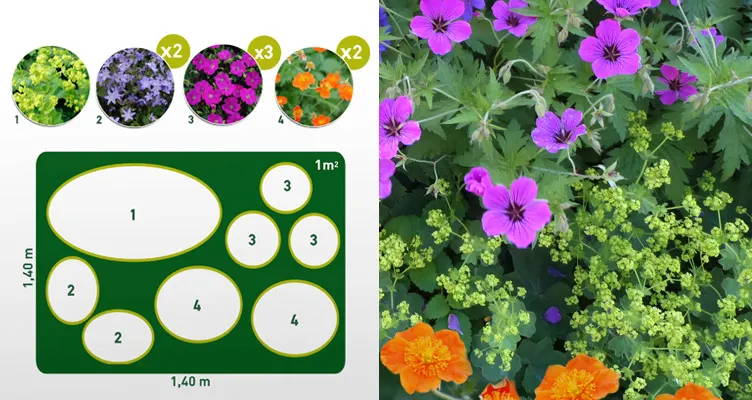 Border collections are a great way to get a finished-looking border all in one go. We have already brought the different flower combinations together. All you have to do is look at the size of your border and choose a suitable collection. Of course, you also need to think about the colour or colours you want in your garden, or you can choose one of our themed collections. Please find more information about these in the article below.
The border collections have all been created based on a set number of square metres. So first of all, look carefully to see if everything fits in your border. We deliver the whole collection to your home so you don't have to carry everything. The handy plan on the packaging tells you how to organise the border. Note the distance between the different plants. The border plants need sufficient space to grow well. Make large holes in the ground where the root balls will stand. Place the root ball and fill the holes with fresh potting soil. When the plants are in the ground, water them. Then enjoy!
Themed collections for the most gorgeous gardens
At Bakker.com, we now also offer border collections based on different themes. Each collection has its own merits. First of all, the 'desert flowers' collection is full of plants that are used to extreme weather conditions. The plants can therefore withstand hot and dry weather. The 'covering flowers' collection consists of several low- and wide-growing plants. Perfect for a low border, or to match with taller shrubs and trees. Our 'bees and butterflies' mix includes perennials that attract butterflies and bees. These are exactly the kind of winged creatures you want to attract to your garden. They pollinate the flowers and drive out insects that are bad for the garden. We also offer the 'cut and come again' floral border. The name says it all: a border of beautiful flowers that you can keep picking. This way you can also enjoy the flowers when you sit inside.
Nice to know: All of the above-mentioned border collections contain plants that have been organically grown. This means that only organic products have been used in the cultivation of these plants and that they contribute to healthy soil.