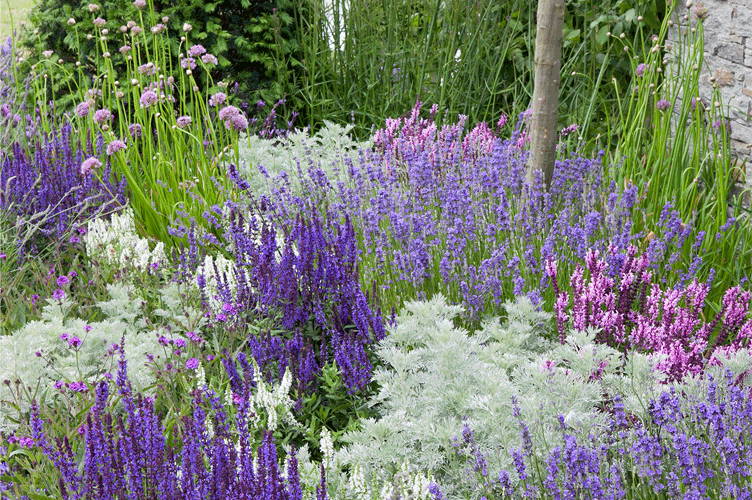 Go for a romantic look in your garden
Soft shades of purple mixed with pink and white, with a tuft of silvery grey foliage here and there – the refined colour combination in the purple border looks just lovely anywhere, large or small. These plants are low growing, giving a nice view over the whole area. Plant these hardy perennials in a sunny or lightly shaded spot and enjoy a romantic looking garden from June right into the autumn.
A garden in romantic tints
This purple border is pleasant to look at thanks to the romantic shades of violet, purple and pink. It is very restful on the eye, not at all intrusive and suitable for any garden. The neutral shade of silvery green foliage on the Artemisia helps promote the colour on the other plants.
Sage in the title role
This romantic looking border contains lots of strong, hardy perennials. Sage (Salvia nemorosa) is the main character. Allium senescens (ornamental onion) is also a perennial, contrary to most ornamental onions. These lovely purple blooms will appear again as if by magic every year. Lavender is an evergreen shrub that will add its own uniqueness to this border in the winter. Its delightfully scented flowers make a fabulous little bouquet to pick for your home too.
Enjoy the blooming splendour
This purple border is really beautiful planted along a wall or fencing, next to the patio – or in the front garden perhaps. All the purple flowers will of course look just wonderful in a large border, a raised bed or even in a large planter. This purple border has been selected to look good from any angle.
It's best to give these perennials a spot in good draining soil with lots of sun – light shade won't be a problem. If the soil is a bit dry, that won't be a problem either. Dead head all overblown flowers as far back as a new shoot and you will stimulate new growth and reflowering.

You will find the following plants in this border:
Allium senescens, Artemisia 'Powis Castle', Salvia nemorosa 'Rose Queen', Salvia nemorosa 'Schneehügel', Salvia nemorosa 'Lubeca', Lavandula angustifolia 'Munstead'.