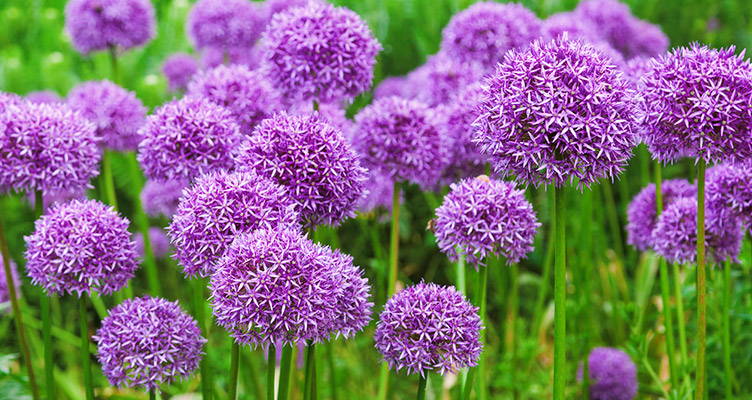 Not all flowers have that 'wow' factor, but the ornamental onion (Allium) is one that definitely does. Plant alliums in the autumn and you can enjoy their wonderful flowers in early-summer the following year. Alliums are available in various heights, colours and varieties but they all have one thing in common: they add fabulous colour and real dynamism to your border.

Alliums belong in the same category as onions, garlic, chives and shallots, but due to their fabulous flowers really they deserve a more prominent spot in your border, not (just) in the kitchen garden like other varieties. Take time to read this helpful article on allium, a stylish plant in surprising combinations to learn more about how to create some unusual planting mixes.

The ideal time to plant alliums is in the autumn. Buy online and be assured of getting them delivered at the correct planting time. That way, you're certain to enjoy them when these exceptional bulbs come to life in spring.
Exceptional varieties from our collection:

​-Allium caeruleum
​-Allium 'Graceful'
​-Allium 'Ostara'
​​Planting alliums in the border
Alliums like a nice sunny spot. If you can ensure that the bulbs get lots of light, they will develop into healthy, strong plants. Partial shade also won't be a problem. Plant the bulbs in a hole three times as deep as the height of the bulb (root to tip); a 5cm bulb should therefore be planted in a 15cm deep hole. You need a distance of about 25cm between large ornamental onions, but for the smaller varieties, such as Allium moly, just 5 cm will suffice. Loosen the soil with a fork first and plant the bulbs with the roots down. Then fill the hole with soil, press down and water sufficiently. The alliums' root systems will develop throughout the autumn. To plant up larger areas, dig a wider hole to the suitable depth and plant several bulbs together.
Potted alliums
​Are you interested in keeping your alliums in pots and planters? The low growing allium varieties are ideal, such as Allium karataviense 'Ivory Queen'. The taller ones are not really a good idea in pots or planters, but it is possible. Always use good-quality potting compost and ensure there are effective drainage holes in the base of the container because too much water remaining in the pot is sure to rot your allium bulbs. Plant the bulbs three times deeper than the height of the bulbs (roots to tip) and as far apart as you can to get the best result. Varieties growing taller than 1m need to be planted 20-30cm apart. Lower-growing types (under 40cm) can be planted at around 5-10cm apart. Water sufficiently immediately after planting. Give the pots frost protection, such as bubble wrap or a garden fleece.​
Flowering period, alliums
Most alliums flower in May, although some will flower earlier and some later. Alliums are the perfect flower to bridge the gap between spring-flowering bulbs and summer-flowering plants. Alliums in full bloom can vary in height from 10cm up to around 1.5m.
Multi-annual-flowering bulbs

Most alliums will flower several years in a row, so allow the ornamental onions to stay planted and they will come back the following year. The foliage feeds energy back into the bulb via sunlight and strengthens the bulb for the following year. When the leaves turn yellow, the bulbs will enter their dormant period – that's when you can cut the leaves off. After a few months, in the autumn, the bulbs will begin a new growth cycle and climax with lovely flowers appearing again in late spring.
Alliums as cut flowers
Alliums make the perfect cut flowers for the vase or for flower arrangements. The fact that they smell rather onion-like is no reason not to enjoy them in a vase! You can prevent the smell of onion by placing them in very cold water. Also try drying alliums - dried allium seed heads look amazing in dried flower arrangements.