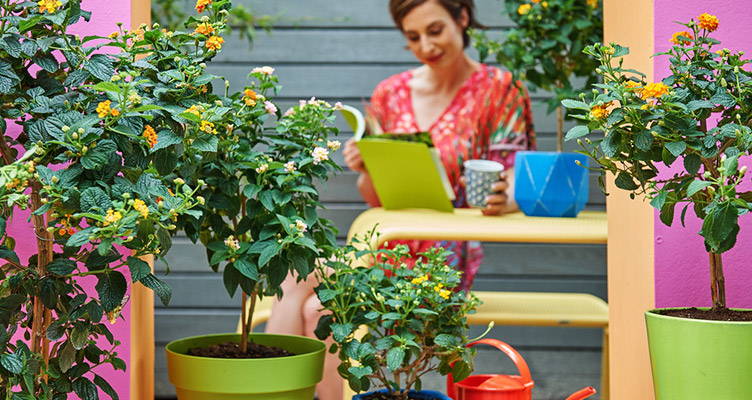 A Lantana (shrub Verbena) is a real eye-catcher for on the patio or decking! Very abundantly flowering, with a delightfully spicy smelling foliage and coming in different varieties, this really is the perfect patio plant. It's summery colours are really cheerful and just look so… summery! Will attract lots of butterflies and bees, which surely adds to its value.
Lantana origins
Lantanas originated in the tropics of Africa, India and parts of the Americas. Lantana is classified under Verbenaceae, so, family to the Verbena. Lantana bushes flower from the middle outwards and you can sometimes get bramble like berries when flowering is over. The delightful, sometimes quite prevalent smell attracts more than just us – butterflies, bees and other insects will soon appear. Lantana foliage is quite rough and the stems often have small thorns. Can be grown as a bush, or as a standard plant, potted or otherwise.
Caring for Lantana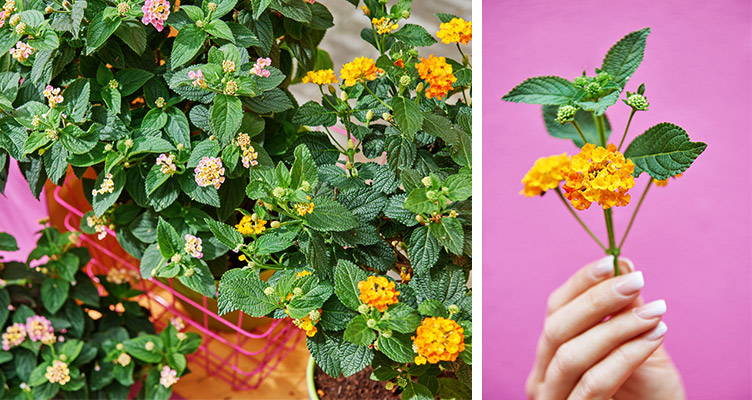 The more sun, the better, for an abundantly flowering Lantana. Lantana can be stood on the patio from the start of May, in good, fertile, potting compost. Don't allow your Lantana's pot to dry out – do water it regularly enough! If in a pretty planter, do ensure sufficient drainage via holes in the base, covered with a layer of potsherds or hydro-pellets. A Lantana will appreciate being fed fortnightly. Regular dead heading will prevent fruit forming but encourage new flower buds to form. The foliage and unripe fruit on a Lantana is toxic is ingested so do beware.
Pruning Lantana
Cutting hard back will not damage a Lantana so don't be afraid to tackle it if you think it needs it. Especially when the plant is shooting off in all directions and needs kept in shape. Really easily pruned.