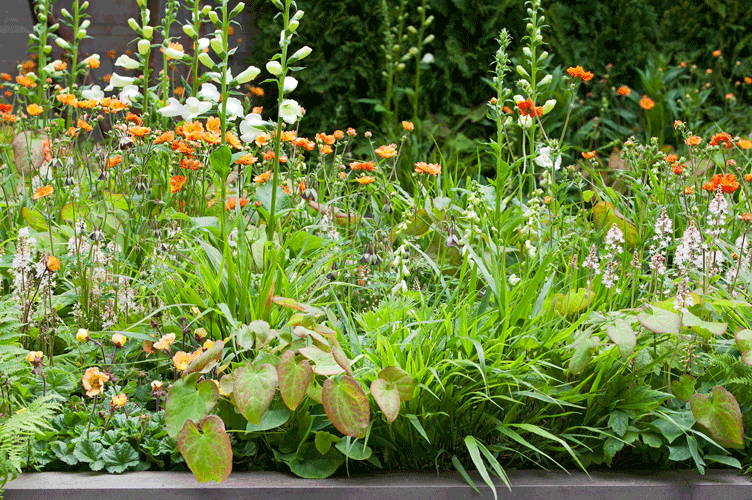 An orange border is just so cheerful!
This border in orange, white and pretty shades of foliage really deserves a spot in your garden. The bright orange flowers on Geum (also called Avens) look just divine paired with the creamy white flowers on the foxglove and the pure white blooms on the Tiarella (Foamflower). This orange border will thrive in shade or part shade so is ideal for cheering up a dark corner of the garden.
Free and easy
If you plant these plants indiscriminately through each other, you can create a really natural looking mix in the border. The various shades of orange will seemingly glow between the green foliage. By contrasting the orange flowers with the white, the orange increases in intensity. You will see a subtle hint of orange repeated in the somewhat orangey foliage of the Epimedium (Fairy Wings).
Foliage as a base line
The huge variety of foliage plants help makes this border pretty, both before and after flowering. Added to that you have the grassy leaves on the Japanese forest grass (Hakonechloa macra) alternating with the heart shaped leaves on the Epimedium, the strawberry like foliage on the Geum and the feathery leaves of all the ferns. These are all plants that will thrive in shade or part shade. For best results, the soil should not be too dry and humus rich.
The luminaries in this border
The hardy perennials in this border will thrive in your garden, in a raised bed or a generously proportioned planter. Plant these star items close together to create an even more gorgeous display as the various plants grow through one another. Add some spring flowering bulbs to the mix, in among the perennials, in the autumn, for some extra colour in the spring. Try Anemone nemorosa, Scilla or daffodil bulbs for a stylish look.

"You will find the following plants in this border:"
Geum borisii, Digitalis purpurea 'Snow Thimble', Epimedium x warleyense, Tiarella x wherryi, Geum rivale, Dryopteris cristata, Hakonechloa macra.