Miniature Kitchen Garden in a Raised Bed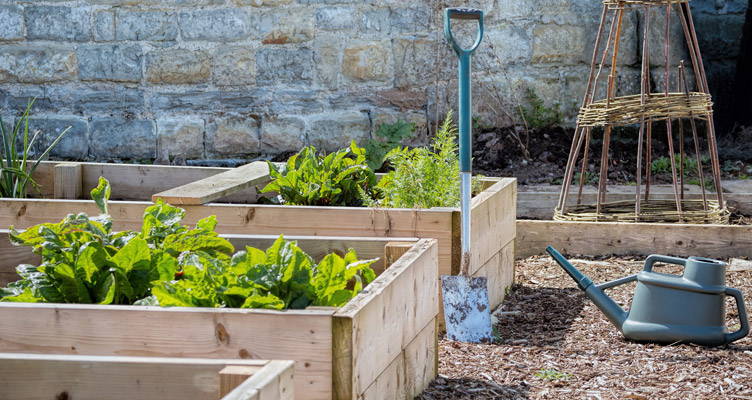 Grow-Your-Own in a Raised Bed
Maximum crop, minimum space – that's growing your own in a miniature kitchen garden. A raised bed as a kitchen garden is an easy way for the beginner to grow vegetables and herbs. When space is at a premium and a big kitchen garden just isn't possible, this miniature kitchen garden in a raised bed is ideal. Growing things in the raised bed is also pretty maintenance-free compared to a full-sized one. A few minutes a day and you're done. Growing your own vegetables and herbs with such an easy raised bed as a kitchen garden is just great fun!
A mini kitchen garden is easily cared for and ideal in a sunny corner of the garden, patio or decking. Enjoy your own tasty, good for you, fruit, veg and herbs from your own kitchen garden in a raised bed. You're going to just love cooking all your own home-grown produce. This kind of raised bed is really fun, and educational, for kids too. Let the children water all the plants, and pick your crops for you. They're going to love doing that!
Have we made you enthusiastic too? Then order this miniature kitchen garden in a raised bed now, incl. free seed, and you can get started in a couple of days already! The raised bed is easily set up and comes complete with its own ground sheet. Use a good fertile soil (improve it with well-rotted manure) to fill the box, and spread it evenly all over the 9 sections. Sow a different seed in each section so you can fill your whole mini kitchen garden. Water regularly and wait patiently on the seed germinating. You will soon have tasty, home-grown fruit and veg. This raised bed kitchen garden is made in a grey, impregnated wood (dim.: 75 x 75 cm) and comes complete with ground sheet, tape and free seed.
Let's go veggie!