In need of a little colour for the autumn and winter? The garden plant of the month for November will pleasantly surprise you. This all-season wonder, the Skimmia (Skimmia japonica), reveals colourful buds in November that retain their hue throughout the winter. In the spring, the Skimmia unfurls its white flowers, which have a wonderful scent. Bees really love it! The plant's leathery leaves stay a gorgeous green all year and at the end of August, new buds will appear. The Skimmia looks fantastic year round!
Whether it's in your garden, on the patio, or on the balcony, the Skimmia adds a pop of colour all winter. Looks amazing with other winter-flowering plants such as the Gaultheria, Viburnum and Helleborus. You can put the Skimmia in a beautiful pot or steel bucket, but just be sure to leave it by your front door, where it will greet you warmly all winter long.
Caring for your Skimmia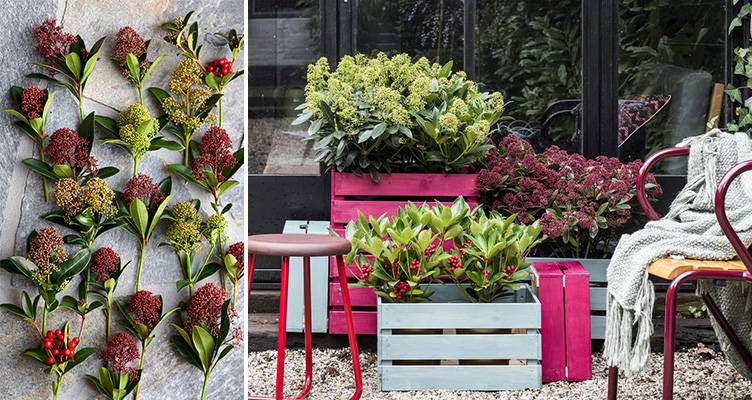 The Skimmia prefers shade or half shade, which is where its berries thrive best.
The plant prefers slightly acidic soil, such as rhododendron soil.
If you would like the Skimmia to produce more flowers, add some plant food to its water.
Sprinkle cow manure pellets around the base in the spring.
The Skimmia does not enjoy soil that is too wet, so it is best to plant it near trees (which draw a lot of moisture out of the ground). If planted in a pot, the soil must be well drained. Never let the Skimmia's root ball dry out in a pot.
Skimmia is fairly winter hardy and only needs to be covered with horticultural fleece or bubble wrap during a particularly bitter frost.
Pruning your Skimmia
It is best not to trim any branches off your Skimmia, because it negatively affects it during bloom. If the shrub has grown large, you can prune some of the branches down to maintain a compact shape. No further pruning of the Skimmia is required. When older shrubs begin to look unattractive, you can significantly trim the plant.
Skimmia trivia
The most common cultivar is the Skimmia japonica 'Rubella', which has wine-coloured flower buds. The Skimmia is a member of the rue family (Rutaceae), which citrus trees are also a part of. You can see how they are related in their leaves: when they are crushed, they give off a crisp, citrus fragrance. In the wild, Skimmia grows in the forests of China and other parts of Asia, such as the Himalayas.