Fuchsia: A Particularly Graceful Ballerina Plant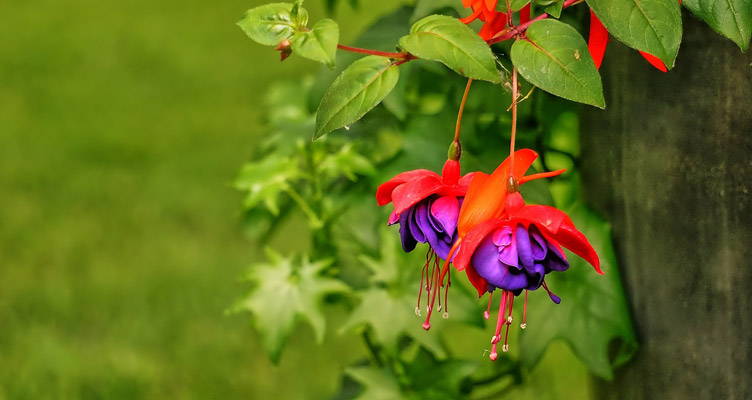 Adorable flowers in beautiful colours, a long flowering period and thousands of varieties to choose from. All of which make the fuchsia, a fantastic garden plant. As a pot plant, they can grow to one metre high, whereas the hardy shrubs grown in the ground grow to a height of 1.5 metres. Both bloom from June to October. These species are cultivated as a summer annual and will be about 30 cm high in pots or a flower bed.
Different varieties
Fuchsias were discovered in the Dominican Republic and named after the famous botanist Leonhart Fuchs. Wild species grow in Central Africa, South America and New Zealand. In these countries it's not the insects that pollinate the flowers, but the humming bird that is attracted to the nectar of the tubular-shaped hanging flowers. By cross pollinating the wild species over many years, there are now more than 8,000 varieties of garden fuchsias. The range is continually increasing and the colour combinations are almost limitless. The current trend is that more and more hardy species are occurring. This of course is perfect for our climate.
Nutritious, moist well-drained soil
Fuchsias love nutritious soil, a little acidic that never dries out. For growing fuchsias in pots, it is recommended to use plastic pots or containers, which help to prevent dehydration. To encourage an even more beautiful flowering, fuchsias require a weekly application of liquid fertiliser when watering. Deadheading regularly will prolong the flowering period. Location is important: they generally prefer a semi-shaded spot in a sheltered position. They like light but full midday sun is not appreciated.
Overwinter non hardy species in a frost-free place
Before the first frost appears, steps must be taken to protect the plants over the coldest months of the year. Store them in dry, frost-free conditions at about 5° C. Cut the fuchsias back by about half and remove the leaves. The soil should not dry out completely, the roots should be kept evenly moist, and they do not like their roots to dry out or be too wet.

Another method for the winter is to put them in a pit. Dig a hole about 60 cm deep and cover the bottom with mulch. Place the pots with the fuchsias next to each other in the pit. Cover them with compost and then cover the hole with a piece of plastic to prevent excessive rain from getting in. In April, the plants can be dug up and repotted or placed directly in the ground. The fuchsias will then grow quickly and again produce beautiful flowers all summer.
Winter hardy fuchsias in the garden
To stimulate growth after the winter, in spring when there is no longer the threat of frost, hardy fuchsias can be cut back to ground level, fuchsias flower on new wood and will grow better on a plant that has been pruned. The plants will flower again in the following season with its spectacular flowers.
Recommended pots and containers
Pots in which almost all fuchsias feel at home in, should be large and have a significant bottom surface. This promotes stability and encourages root development, and thus good growth. Plastic pots have the advantage that there is no evaporation of moisture escaping through the walls of the pot. Terracotta pots are also beautiful. Fuchsias look particularly at their best in dark coloured terracotta pots, also light coloured and shades of red look beautiful too. Glazed pots have the advantage that they evaporate very little moisture. Be careful when you buy a pot for your fuchsia as they could freeze.