Design Your Own Garden With Food and Fragrance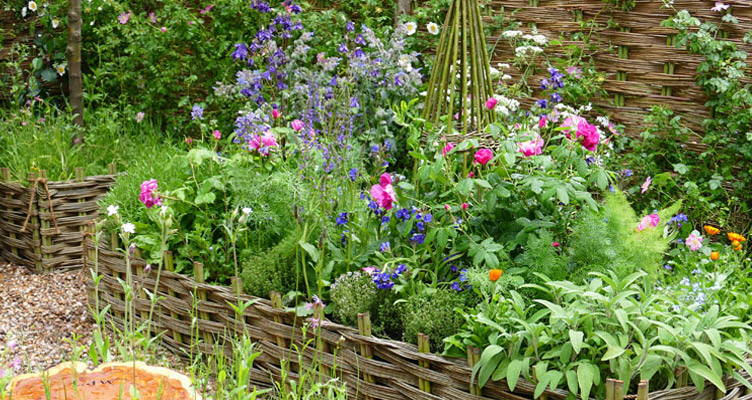 One of the latest trends is 'gardening for the kitchen' – it's where ornamentals and edibles are all planted through each other. This article is written to give you some inspiration on this front and grow your own 'smell it, see it, eat it' garden.
All-in-one
A long time ago, it was actually the norm to have ornamentals, vegetables and herbs all jumbled together and grown in one garden. People knew about how one plant can influence another and even protect each other. It then became the fashion to split different plant groups and we got individual kitchen gardens, herb gardens, flower gardens and orchards. It has now gone full circle and it is fashionable again to add fruit, vegetables and herbs to your ornamental garden, adding a flavoursome element to a regular type of garden. It really can't get any better!
Vegetables that are attractive and tasty
Beetroot has a pretty red veined leaf on red stems, and there are really decorative varieties of lettuce!
Kohlrabi (white and red)
Colourful lettuce varieties like red 'Lollo Rossa', the red and green Batavia lettuce, the Red Fire lettuce and oak leaf lettuce.
Beetroot – there are lovely varieties with bright red stems – try Beta vulgaris 'Kogel'
Broccoli (Brassica oleracea) 'Marathon F1' is an attractive dark green – very tasty too
Fruit that is attractive and tasty

Blackberries, strawberries and grapes – they all fit in a 'smell it, see it, eat it' garden!
Lots of the dwarf varieties of fruit trees like pear, apple, cherry, apricot and peach lend themselves to being grown in the garden, potted or otherwise.
There are tasty climbers like the grape vine, kiwi and Japanese wineberry
There are red, white and black currants and brambles and raspberries. They will easily grow in a normal garden soil, sun or part shade. A berry carrying hedge can look really pretty too.
Try eye-catching shiny strawberries along the edge of a border or in pots and planters on the patio or decking – a real summer treat in taste and smell.
Annual herbs with decorative foliage

The shape of dill, borage and parsley all look very decorative.
You can plant annual herbs anywhere and everywhere in the sun, in amongst all your other plants. Some pretty varieties of herb are:
Dill: Dill has a pretty, delicate and decorative leaf that will look great among large summer flowering plants.
Borage: Borage has edible, blue flowers. The young leaves taste vaguely of cucumber too.
Parsley: Parsley, especially the variety with curly leaves, is an asset to any border.
Nasturtiums: Nasturtiums are entirely edible, foliage, flower and all. The seed pods resemble capers, the flowers are spicy and the leaves resemble those of the radish.
Pretty to look at, tasty, and good for you too
Bakker.com has put together a special border pack containing plants for an edible border. How convenient is that?!