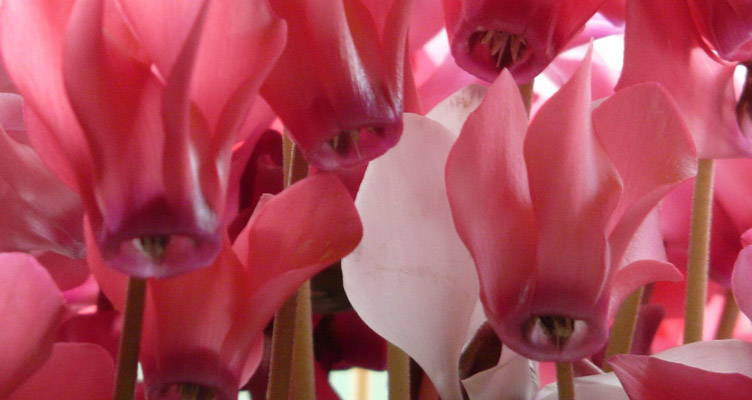 The words 'surprising', 'unusual' and 'glorious pink' spring to mind when we consider the magnificent Cyclamen Hederifolium. This plant flowers in (late) autumn. It has to be planted in early spring if it is to flower the following autumn, so you need to order your bulbs by March at the latest. Let us take a closer look at this magnificent plant.

The Cyclamen was held in high regard in ancient times, primarily due to its medicinal properties. The Romans also appreciated the plant for its gentle appearance. The name Cyclamen is derived from the Greek word 'kuklos', which means circle, and refers to the flattened circular tubers and circular growth. Twenty-three Cyclamen varieties have been identified up to now. Many of these come from the Mediterranean region, but some Cyclamen varieties can also be found in Asia Minor and Central Europe.
Planting
Cyclamen Hederifolium (also known as Cyclamen Neapolitanum) is an ideal garden plant. This tuberous plant is easy to grow and produces charming, usually scentless flowers in pink, violet, white and red.

As the Cyclamen is so easy to grow, it is a useful subject for inexperienced gardeners. Once it has settled down and taken root, it will produce seeds very readily. This is because the flower stems hang down after flowering and the seed capsules eventually break open, scattering the tiny seeds over the ground automatically. You can let the young seedlings naturalize, or you can dig them up and pot them. You should keep the potted seedlings in a sheltered place until they have grown sufficiently, otherwise they may fall prey to hungry snails or mice.
Sea of flowers
Cyclamen Hederifolium does not require much care and attention. It will spread rapidly if planted in moist, preferably limy soil in partial shade, in a temperature of between 12°C and 18°C, and covered with garden soil or compost every year. It certainly lives up to its reputation as ground cover, and will soon develop into a carpet of magnificent flowers. To achieve the maximum effect as quickly as possible, we recommend that you plant the Cyclamens in reasonably large groups. Or you could create a spectacular and eye-catching feature by planting Cyclamen Hederifolium together with other plants such as Hellebore, Primula, Lungwort (Pulmonaria) and various flowering bulbs.
Winter-hardy
You can admire the flowers of the magnificent Cyclamen Hederifolium in the garden from October until the first frost. Incidentally, this variety not only copes with the ravages of winter, but can also withstand a summer drought. This makes it an ideal garden subject. The small, colourful flowers often have a slightly darker mouth, and the petals have ears on each side of the base. The striking marbled foliage appears after the first flowers. This foliage is very handsome, producing a silver shimmer in the garden. The heart-shaped leaves stay on the plant throughout winter. As Cyclamens flower at a time when almost nothing else is in bloom, they are very conspicuous and are a pleasant surprise.

As you may have realized by now, Cyclamen Hederifolium is an asset to any garden! Order now so that you can plant in March and enjoy the flowers this autumn!