Angels' Trumpet: Heavenly Scented Flowers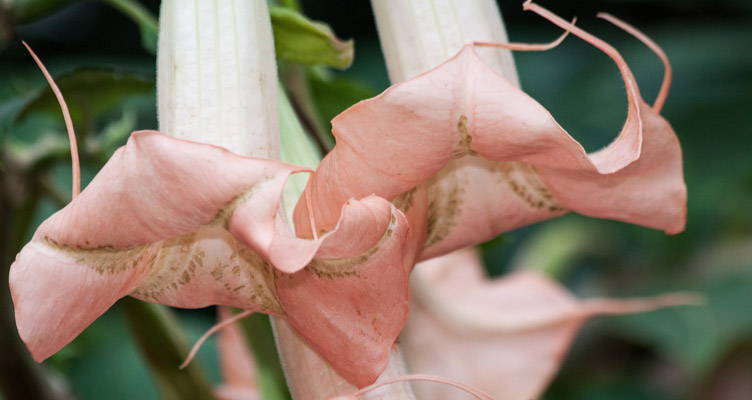 The Angels' Trumpet (Brugmansia) is a notable tub plant in many ways. It has an impressive appearance, with 25cm long flower heads, and it has another added bonus: the scent! On warm, still evenings in particular, it spreads an exceptionally sweet, heady fragrance.
Exclusively tropical?
Such an exotic plant, many would think, must be very demanding. However, in spite of its stunning display of flowers and the fact that most Brugmansia originate in South-America, nothing could be further from the truth. It does not need very high temperatures and it is actually very easy to look after.

Originally known as Datura (the plant was renamed Brugmansia at the end of the 19th century) Angels' Trumpets have been known in Europe since the 17th century. They would spend the winter in orangeries as they were, and still are, sensitive to frost, their minimum viable temperature lying somewhere between the 4 and 12 °C.
A member of the Potato family
Brugmansia belongs to the Nightshade (Solanaceae) family, which includes Potatoes and Tomatoes among its members. Best known Brugmansia are Brugmansia aurea, Brugmansia sanquinea and Brugmansia suaveolens. These all have large leaves and long, trumpet-shaped flowers.

B. aurea comes from the mountains of Columbia and Equador, and has flowers that can reach a length of 30cm. The plant has been crossed with others to make it more resistant in our climate and is sold under the name B. aurea x suaveolens. The white flowers in particular are very fragrant.

B. sanguinea is of Brazilian origin and has narrow flowers, some 15cm long, of orange to red colour. The flowers are non-scented.

B. suaveolens is the most popular and probably one of the prettiest Brugmansia. It has long, strongly scented flowers that can reach a length of 30cm. In the day the flowers hang down, but in the evening they raise up. The pink varieties, like 'Rosa Traum' grow surprisingly fast.
Watering and feeding
Brugmansia will flower continually throughout the summer. All of them can be placed in full sun, although in light-shade they will flower for longer. To ensure your plant will produce lush flowers all summer long, give them a large pot with good compost that contains clay. Geranium compost is good. Water generously. On hot days, perhaps up to three times. Add some liquid plant food every week or use granulated manure that is watered down well.

Depending on how the plant has been kept over winter, flowers will appear around June and the plant will keep on flowering until the first frosts. Flowering can be very variable. Sometimes the plant will be covered with many flowers, while at other times there might not be any at all. Remove faded flowers immediately as these large, limp blooms will make the plant look much less attractive.
Pruning and overwintering
In autumn your Brugmansia must be moved to a cool place indoors or, if in a greenhouse, it can be planted straight into the soil. Water the plants once a week. After the winter take the plant from the pot and cut back the roots slightly. Fill the pot with new compost which has been mixed with some slow-release organic manure. After re-potting you can start watering regularly again.
Pruning is done around mid-May. Remove all dead wood as well as twigs that are too long or spindly.

The varieties we have mentioned here reach a height of about 1½m and they will bring a tropical ambience to your garden or patio for decades to come.