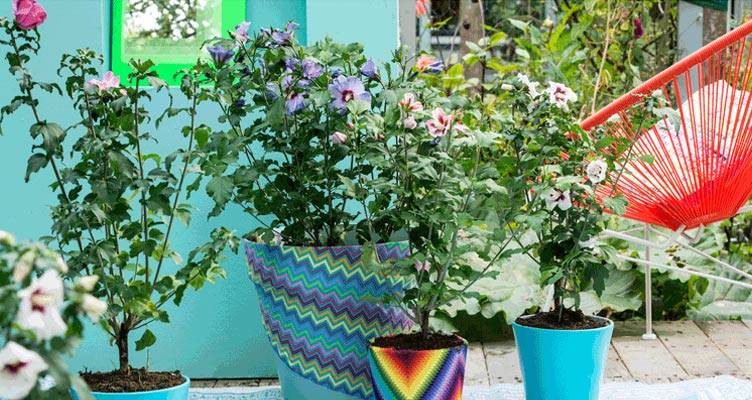 A hibiscus on the terrace makes things really summery – even when the weather lets us down.
Hibiscus is a plant that is really suitable for both beginner gardeners as well as the (more) experienced.
Hibiscus is relatively unknown as a potted plant for on the patio – so unfair really. This gorgeous, exotic plant blooms in several shades and is reminiscent of places such as Hawaii. This plant is a real eye-catcher on any patio terrace.
Fresh Flowers
There are literally hundreds of varieties of Hibiscus – from houseplant to tall tree. On the patio/decking/terrace, the hibiscus comes as a shrub, a standard or just potted. They all bring sensational flowers of up to 12 cm wide, in red, orange, yellow, purple, pink or white. Their spectacular flowers usually only last a day but are followed continually by new ones. All summer through!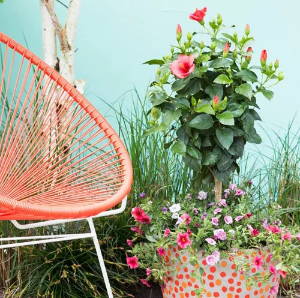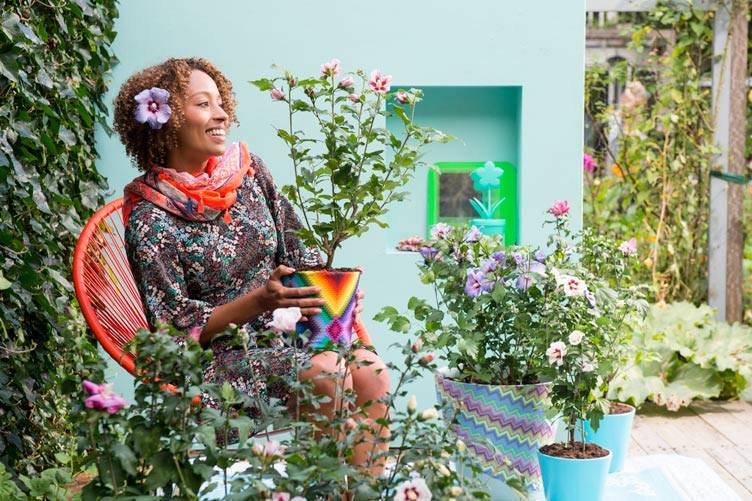 Although the very sight of Hibiscus blooms makes us imagine Hawaiian hula dancers in grass skirts with sensually swaying hips and a flower in the hair, this plant originated in South western Asia where it grows wild as a shrub that can reach up to 4 metres high. Hibiscus' flamboyant, tropical image could well be down to the impressionist painter Paul Gauguin who illustrated the flowers in lots of his Tahiti period paintings, while there.
An easy plant
It's really easy to take care of a hibiscus. It's important to have it in a sunny spot and to water it regularly. Do ensure good drainage, whatever pot it's in – holes in the base and/or hydro-pellets will help allow water to drain well. If you want it to flower long and more abundantly, we recommend liquid fertiliser at regular intervals.