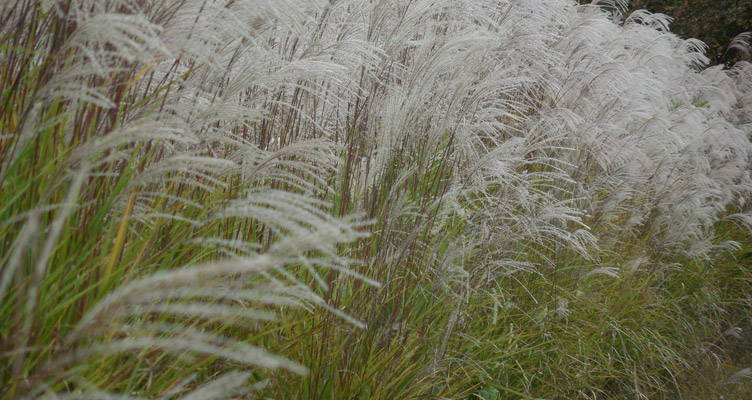 Splendour reed (Miscanthus) creates a very special atmosphere in your garden with its ornate leaf and waving plumes. The complex pattern of the fine leaves add an interest to your garden and provides a beautiful backdrop for flowering perennials. The Miscanthus looks really lovely when it catches the autumn light and with a light breeze it adds extra depth to the gardenë! F
Splendour reed is undemanding
Native to China and Japan, the reed is one of the most beautiful ornamental grasses, growing on the sunny slopes in mountainous areas. It is a strong, undemanding plant with few requirements, which will grow well in any moist, but well-drained garden soil. They prefer moist conditions to dry ones. Water extra in warm weather. But remember that the reed enjoys moist conditions, not t& eacute; waterlogged.
Maintenance
We recommend that you carefully consider where the best place would be to plant your Miscanthus plants. Transplanting after 2-3 years involves a lot of work. Ornamental grass has a deep fibrous root system. Early to mid-spring, just before the new shoots appear, cut the dead stems back, so that the new growth doesn't have to struggle to grow through the old stems. Overall the Miscanthus varieties are frost tolerant. However, in late autumn/winter the plant dies back above ground. You do not have to cut the straw yellow leaves and silvery white plumes as they can look quite decorative in your autumn garden and look lovely when there is a slight breeze.
Splendour reed splitting
It is best to split your reed every four-five years, cut the reed back to roughly ten inches in size. If you think that it is growing too big, in early spring you can either reduce the plant, ' or it also responds to division. Using a sharp spade (if necessary, a sharp blade) cut along the edge of the clump. Do you want to take cuttings of the reed? Choose pieces that are in good condition (not too small) with their roots intact as much as possible. Immediately transplant the new clumps to their new position and for the first few weeks make sure that they do not dry out.
Solo at its best
Splendour reed is unique and looks its best planted alone: beautiful at the edge of the pond or along the edge of your patio or lawn. However Miscanthus does combine well with other grasses such as bamboo and pennisetum. For a modern look combine ornamental grasses, together with white pebbles and stainless steel garden furniture.