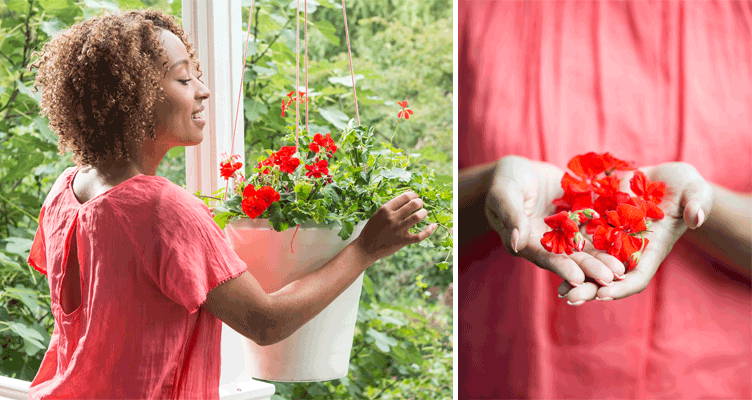 Back - but never really forgotten!
Geraniums (Pelargoniums) are one of the most well-known garden flowers and a 'must have' for anyone with a patio. Geraniums have been popular for generations and everyone likes a geranium – young and old, green-fingered or not. This favourite, also ideal for window boxes, flowers from April until well into autumn. So versatile, it can be planted almost anywhere. It's not just for hanging baskets or window boxes but for flower beds, boxes and borders too.
Variety
Geraniums have pretty green foliage and gorgeous blooms from bright red through to snowy white, with bright pink, purple, orange, lilac, striped and deep dark red. There are various types of geraniums, the three most important being the hanging geranium (Peltatum), the uprights (zonal) and the so-called French (Grandiflorum). Although geraniums originated in South Africa, it's a plant long associated with our own country too.
Long-lasting flowers
Geraniums are strong plants and are guaranteed to flower abundantly with a sea of blooms. It's important to have them in sun or part shade and to water them regularly. For extra long and abundant flowering, we recommend feeding them with liquid fertiliser fortnightly and also to dead-head regularly. Your geraniums will then just grow new buds and will continue to flower through to the first frosts!