Garden plants: Blossoming trees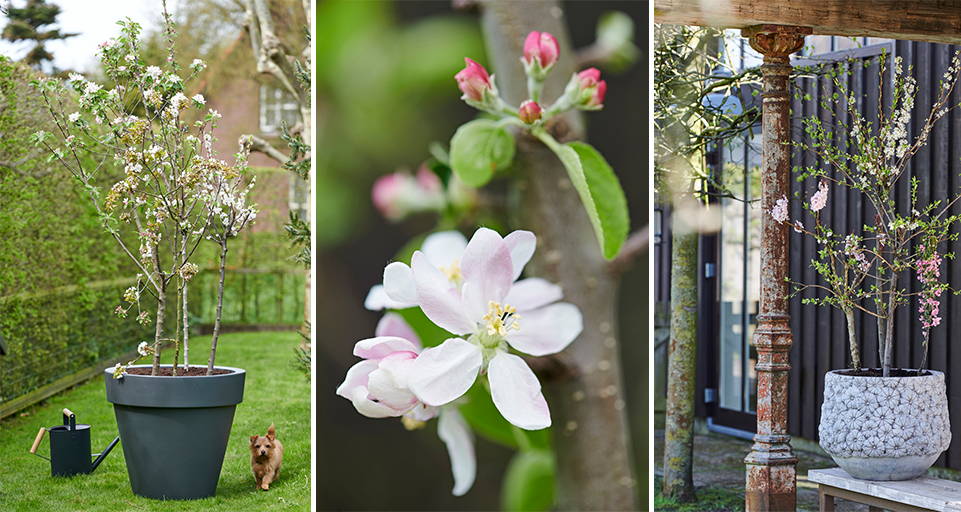 Fruit trees have it all: stunning blossoms in the spring, followed by a thick, wealth of leaves, and finally fruit to round out the rest of the year. You can pick your own peaches from a peach tree (Prunus persica), bake an apple pie with the harvest from your apple tree (Malus), or take a juicy bite out of the fruits from your plum tree (Prunus domestica). Let yourself be blown away by the intense flavour of truly fresh fruit! Not to mention that it's an educational and an exciting experience for a child to watch an apple, plum or peach grow. Don't have a garden? There are also small, compact fruit trees available for the patio or balcony.
Blossoming trees: Shapes and Sizes
Blossoming trees come in all shapes and sizes. As trees, they all have similar traits: a medium-height trunk, blossoms in the spring, a thick, a thick crown of pointed, dark-green leaves afterwards and then the fruit. There is an enormous selection to choose from: apples, plums, peaches, you name it! For those lacking in outdoor space, there are plenty of compact variants that can go in a pot on your terrace or balcony. There are even trees that produce different types of apples, plums, or peaches.
Caring for a fruit tree
Blossoming trees love the sun, with some shade every day or so.
Plant blossoming trees in deeply, so that they are rooted firmly in well-draining soil.
Give the plants a lot of water right away, then you can begin watering them normally.
When flowering and growing, give them organic fertiliser once per month; the rest of time, once per season is enough.
Pruning fruit trees
Prune apple and peach trees in March, right after winter but before flowering. Plum trees are best pruned in late summer, after being harvested. Flowers and night frost? Cover the tree with horticultural fleece, or spray the flowers so that they temporarily freeze: this actually increases the chance of harvesting fruit later.
Trivia
All blossoming trees grow in temperate regions of the northern hemisphere. The apple and plum trees are native to Central Asia and the peach tree comes from north-west China, but was brought to the West via the former Silk Road. All in all, they have been a part of the living environments of Eurasian people for ages, as well as a part of their menus.