Cannas: Tropical Beauties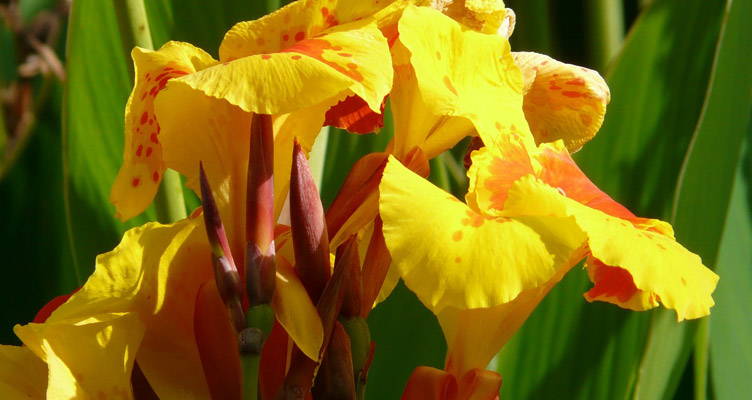 With their distinctive leaves and beautiful flowers they resemble a cross between a gladiolus and a banana plant: canna (Indian flower cane). This wonderful plant gives a tropical feel to any garden. In the ornamental border, as a solid background plant or as a solitary focal point in a minimalist garden; a canna is a real asset. Origin of canna Canna is native to the marshlands and rainforests of South America and Asiaë, where they can be found in clearings. In Europe, however, cannas also perform very well, provided the tubers are placed in a frost-free place to hibernate for the winter.
Unusual leaf pattern
The most common cannas have beautiful, dark red to brown leaves. There are, however, some that have lush, bright green shiny leaves. Just the special canna leaf alone makes an impressive appearance in any garden.
Exotic flowers
The canna flowers from August to October with its showy exotic flowers. There are about 150 cultivars: Cannas with gladioli-shaped flowers and orchid-like inflorescences. The flowers range in colour from bright red to pink and yellow shades, often supplemented with different colour veins or dots. Regularly deadheading the faded flowers encourages the canna to reward you with even more flowers!
Care
Canna likes a sunny spot and nutritious, loose soil. In the garden, after mid-May fertilise monthly and the canna will naturally form larger clumps. If you plant the canna in a pot, we recommend that you give extra food every week and ensure the compost is kept moist and doesn't dry out. Pot grown cannas can be overwintered in a frost-free area. Grown in the ground, dig up after the first frost, cut the leaves off the tubers and remove surplus soil. Dry them off and store them in a tray with some compost. After March, Bakker advises to continue watering and soon new shoots will appear.