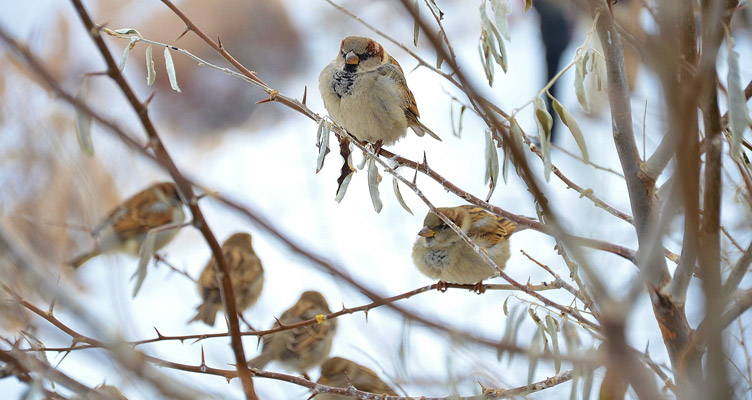 Birds will appreciate extra food during a severe winter accompanied by snow and frost. And from inside your home it is, of course, a beautiful sight, to watch foraging birds in the garden. Birds memorise the gardens where they have previously been fed and complete a round of those gardens in the morning, and the evening. So, if there is always food in your garden, they will return more often.

Bird food and water
All year round birds require a lot of energy. In the winter: to keep up their temperature. In the spring: to nest and raise their young. In the autumn: to build up reserves for the winter. Contrary to what many people think: birds do not keep eating when their hunger is satisfied. They also, when hungry, do not stop searching for food on their own when they are fed. You can therefore feed birds all year round without worry.
Extra energy
It takes a lot of effort in the winter for birds to keep their body temperature at 40 degrees. On a cold night, smaller bird species can sometimes lose 10 percent of their weight! As an extra energy source, to compensate this drop in weight, you might consider hanging up fat balls and peanuts. In case of a light frost, you could also offer fresh drinking water. Birds will not only drink in the water but also bathe themselves and, due to their greased feathers, they will not freeze. However, if there is severe frost, it is better not to offer water.
Tips: Feeding birds in the winter
Feed the birds with small quantities, preferably in the morning and at the end of the afternoon.
When it starts to freeze, place a little fresh water for the birds regularly. Make sure they can't bathe in it. If there is snow, birds do not need extra water.
Do not offer the birds water in case of severe frosts - it can cause hypothermia and danger of freezing.
Margarine works as a laxative and is therefore unsuitable for birds.
Regularly clean the feeding table to prevent spread of diseases.
Tie a fat ball or pine cone with seeds against a tree trunk. Birds such as creepers, nuthatches and woodpeckers love such special feeding places.
Also sow teasels in your garden. The dry bulbs are very decorative and birds are crazy about the seeds.
Birds are fond of berries, so a number of berry shrubs or trees in your garden are an asset to the eye as well as the birds.
Winter recipes for garden birds
Bakker.com sells various products to make the life of a garden bird as easy as possible, such as attractive, compact bird houses and bird food. Of course, you can also make your own tasty snacks for your winged friends. Think of seed pies, apples, millet stalks, and fat bulbs, peanut and seed cones. Making feeding tables, seed cakes, fat balls or seed cones and watching the birds in the garden are fun to do, especially with your (grand) children. It's even more worthwhile in the winter, when there isn't much to do in the garden, with very few flowers in colour. You can also make a bird guide to find out the name of the bird species you see in your garden.
Make fat balls yourself
Ingredients:
1 kilo of unsalted beef fat
750 grams of birdseed
sturdy wire or thin rope
shapes (e.g. plastic coffee cups, yogurt trays, cans)
Heat the beef fat in a pan until it is melted. Stir the bird seed through the fat. Cut the rope in strings in lengths of about 30 cm. Take 6 or more shapes and put a string in every shape. Pour the molten mass into the molds, let it solidify and the fat balls are ready. If you're unsure the ball is firm enough, then tie a net around it (for example, like a bag of mandarins). Hang them out of reach of cats and in a place that you can see inside.
Recipe for seed cone
Ingredients:
large pine cone (s)
salt-free peanut butter especially for birds
bird seed
rope
oven dish
Put a layer of bird seed in the oven dish. Tie a piece of string around each pinecone, leaving it long enough to use to hang the pinecone up later. Cover the entire pinecone in peanut butter. Roll the pinecone through the bird seed until it is completely covered in seed. Shake off the excess seed and hang the pinecone up in a safe place for the birds. Just outside the window is good!
DIY: bird feeder
What you need:
clear disposable plastic bottle with cap
rope
sharp scissors or hobby knife
Prick a hole on both sides of the bottle. Thread the rope through this and tie. Carefully cut a square 5 by 5 cm on each side, about 5 cm from the bottom of the bottle. Fill the bottle up to the windows with birdseed. Hang the feeder house on a tree or on the clothes line in the garden.
Feeding tables
Feeding tables are easy to make yourself, but of course also available to buy in all shapes and sizes. A windowsill can perfectly serve as a feeding place, as well as a snow-free spot on the ground.