What is the perfect indoor plant for you?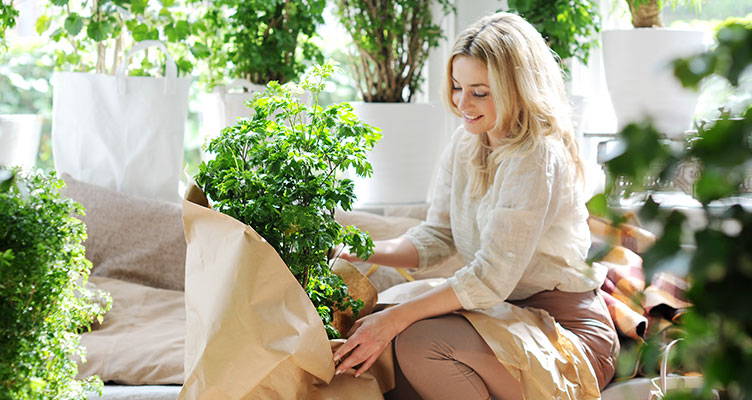 During photosynthesis plants absorb carbon dioxide and release oxygen making plants the perfect partner for humans. So, by adding indoor plants to your home you can actually increase oxygen levels. They also brighten up their surroundings, be it in your bedroom, the kitchen, or just on a windowsill, or in a conservatory. But how do you make sure your plant doesn't just die as soon as you get it home? Well don't worry - we've selected some plants here that are extremely undemanding, will help to purify the air and will cheer up your home. If you're a bit more daring and consider yourself green-fingered then perhaps our statement houseplants will be even more suitable. Order your home companion now from Bakker.com.
Indoor plants
Every indoor plant prefers its own conditions – whilst one likes to be in a sunny spot, another prefers a shady position. The good news is you can pretty much find a suitable plant for anywhere in your home. At Bakker we have 350 different indoor plants to choose from Bakker.com has something for everyone.
The Cactus family

Growing cactus is not difficult; they are among the toughest of all houseplants. Cacti are well suited to life in dry and hot conditions, so (as long as you stick to a few simple rules) you are guaranteed growth success.
Strong light – especially in winter
Hot temperature
In spring and summer water when the compost dries. In winter cease watering.
You will be amazed at just how diverse the cactus family is. Flowers, decorative spines and bright colours make each cactus unique.
It's not a cactus, but it's just about as undemanding – Sansevieria. This is an indoor plant that's making a huge comeback. It loves lots of sun and lots of warmth. It's not for nothing that Sansevieria is acclaimed as 'student flat plant of the year'!

Tip! Do you know anyone going into student accomodation? Then a cactus makes the perfect houseplant for them! Even better in a little group together – it will make a great eye-catcher in their new room.
Make a statement: Large indoor plants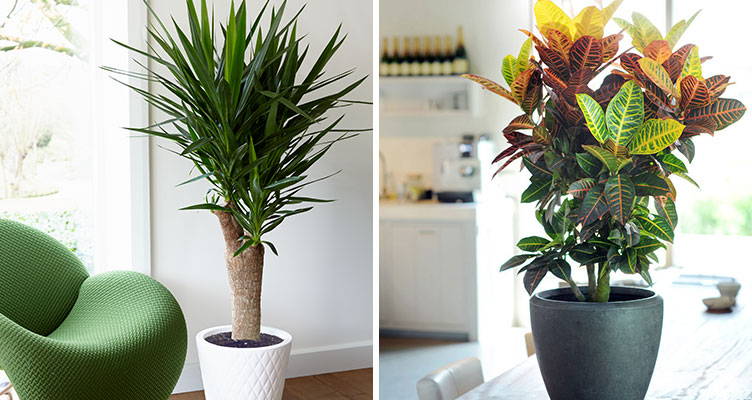 'Statement' plants can be bigger and fuller than you're used to in a standard houseplant. These are all large indoor plants that you just can't miss, like for instance the Yucca. They are usually stronger than the smaller types, only need watered sparingly and, perhaps most importantly, they really do add a dramatic touch to the interior.
Tip! Keep sunlight above the plants. If you want to prevent the crown of the plant going bare and losing leaves be sure that the window is at least 20cm higher than the plant is.
Stylish indoor plants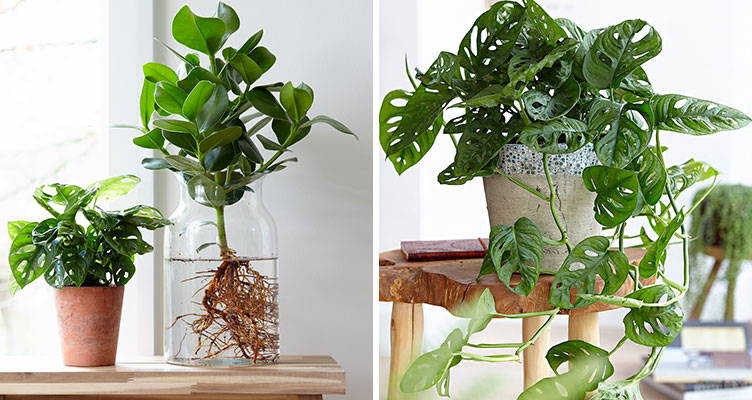 We all like to think we're fashionable but just how do you achieve that stylish look, like they show us in magazines? With these houseplants, you will be a veritable trendsetter:
Monstera 'Monkey Mask'
Bare-rooted Clusia
Tip! Are you looking for something really special? Check out this Elkhorn Fern, an old-fashioned houseplant that's back in vogue.
The natural way to purify air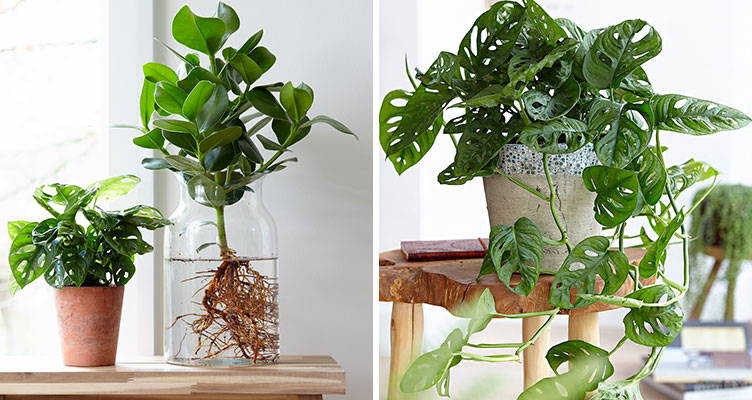 The air purifying plants by Air so Pure help to create a healthy level of oxygen and purify the air. The Air so Pure plants have the helpful characteristic of absorbing any harmful particles in the air, and giving off oxygen in return. Yet another advantage is that these plants by Air so Pure enhance the humidity levels of their surroundings.


Tip! Stand this plant in its pot on your desk. Great for your concentration!