Top 5 most special flower bulb packs

Which flower bulb to choose? There are so many, and they are all beautiful. Sometimes we just don't know which one to choose. That's why we've put together flower bulb mixes. But we like convenience too. Then we opt for flower bulb lasagnes and pizzas. View our top 5 most special flower bulb packages here. All our flower bulbs are A-quality and have the largest bulb size. That means large flowers bloom.
1. 'Royal Blue' lasagne package
Crocus 'Ruby Giant', Tulipa 'The First', Anemone blanda 'White Splendour', Hyacinthus 'Blue Jacket' & Tulipa 'Paradijs'
This lasagne is not for eating. The 'Royal Blue' lasagne package consists of 3 trays with flower bulbs. We plant them on top of each other. The bulbs of the top layer come out first, then the middle and then the bottom. In February, our patience will be rewarded. We see the crocuses. In March, we see a mix of early flowering tulips and deep blue hyacinths. In May, white anemones are replaced by special tulips. We plant the trays in a flowerpot or in the garden. We cover them with soil and wait patiently.
2. Pink tulips, hyacinths and allium oasis
Hyacinthus 'Fondant', tulipa 'Candy Prince' & allium 'Ostrowskianum'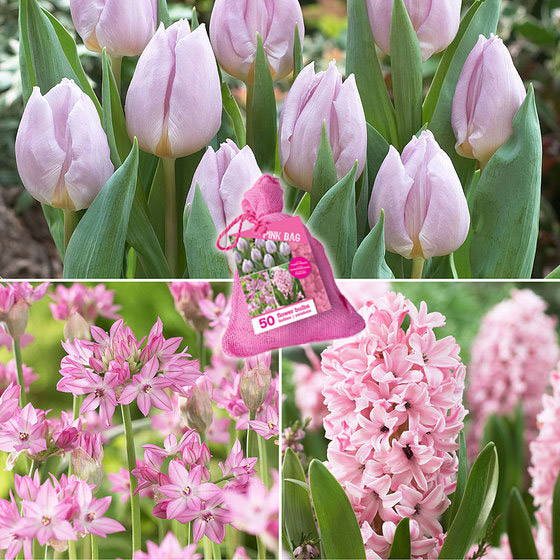 Why does it feel like it's our birthday? We receive no fewer than 50 flower bulbs packed in a pink sackcloth bag. After planting, there will be months of presents. In March, we first get hyacinths and tulips. Then, in May, the alliums. We plant them in half or full sun. Everywhere. Loose in the garden, in flowerpots on the terrace, on the table or at the front door. We can also make a wild bouquet from them and put it inside in a vase.
3. Dutch iris mix 'Tiger'
Iris hollandica 'Tiger'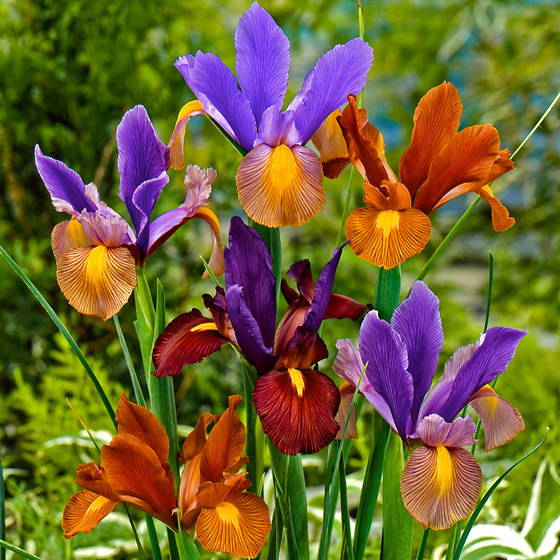 What do the Netherlands and the exotic have in common? Exactly. Dutch iris mix 'Tiger'. The colours are attractive and exotic. The name arose because irises were frequently cross-bred in the Netherlands. The result: many new colours. We can't take our eyes off them. They start to bloom in June. We plant them in flowerpots and in the garden. They bloom perfectly in half or full sun. We also bring them inside. We cut a few stems and put them in a vase. We leave the bulbs in place after flowering. They bloom every year.
4. Snake's head fritillary
Fritillaria meleagris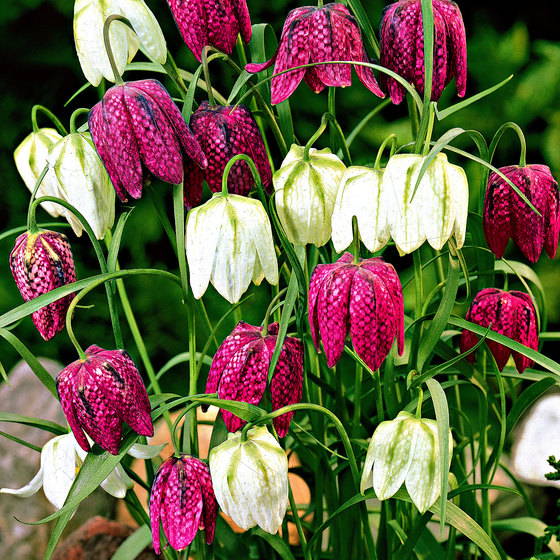 Don't you love that chequered pattern? So attractive on those snake's head flowers. The white ones also have this pattern. Although it's less noticeable on them. The bell-shaped flowers hang lightly down on 35 cm high stems. They start to bloom in April. We also know that they come up every year. We plant them in flowerpots or just in the garden. In full sun. They are real sun worshippers. We can cut a few stems from these flowers too and put them in a vase inside.
5. Flower bulb pizza daffodils & blue grape hyacinths
Narcissus trumpet 'Dutch master' + 'Muscari'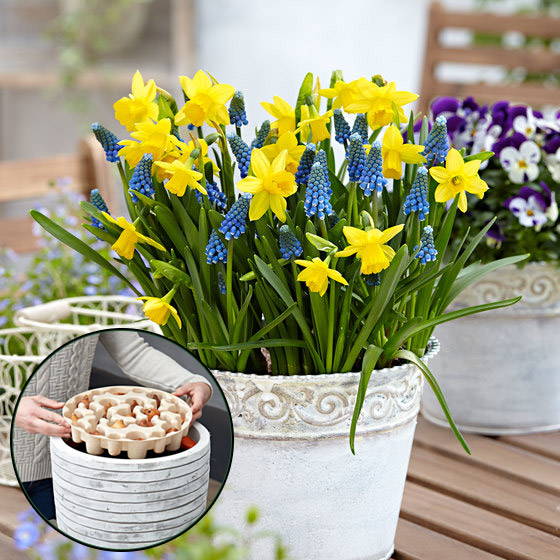 We are very proud. Of what? Of our prize-winning daffodils. They won the Dutch Daffodil Flower Bulb Prize for the best flower bulb. Our daffodils have the most beautiful, richly blooming flowers. They combine perfectly with blue grapes. We've made it so easy for you! This 'pizza' is a round tray filled with a mix of daffodils and blue grape bulbs. We plant the tray in the garden or in a flowerpot. In half or full sun. Cover it with soil and we're done. So easy! The daffodils bloom in March. The blue grape hyacinths follow in April. We leave both bulbs. They go wild and bloom again every year.