Top 5 large indoor plants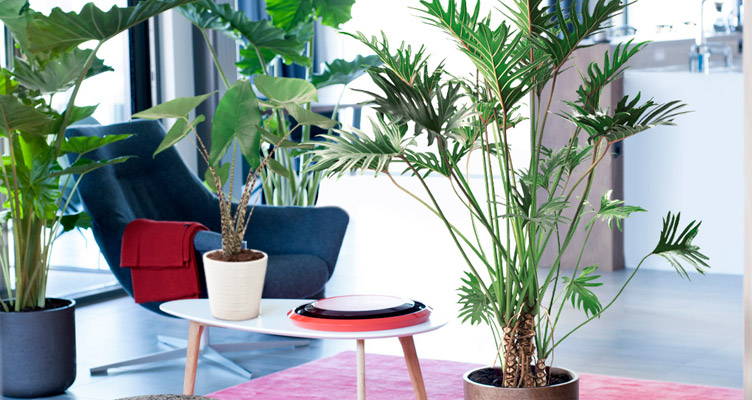 Large indoor plants are a perfect addition to every room and they also look great in the office. They can be used as a natural room divider. Use largeindoor plants to easily create a true jungle feeling. The indoor plants in this top 5 are relatively low maintenance. Make sure that these large indoor plants are not placed next to a heater, as they won't do too well there. Click here to view our top 5 unique large indoor plants.
1. Philodendron 'Xantal' XL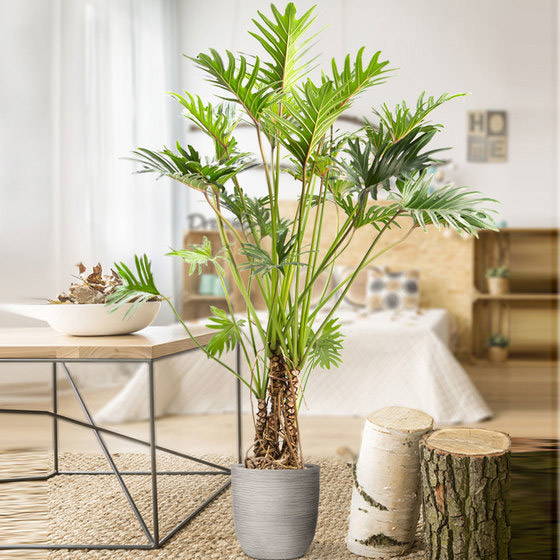 A plant that looks like a giraffe? We're referring to this Philodendron 'Xantal'. This plant has large leaves on long stems. 'Xantal' grows to be 140–150 cm tall and a sizeable 110 cm wide. Perfect for that one bare corner or space. This tropical South American plant likes plenty of humidity, so always keep the soil moist and spray the leaves every once in a while. Place the 'Xantal' in a well-lit or moderately lit spot. Remember: The Philodendron's sap is poisonous. Keep the plant out of the reach of children and pets. Tip: You can use a tall plant stand or a stool to lift it off the ground.
2. Alocasia zebrina XL — Elephant's Ear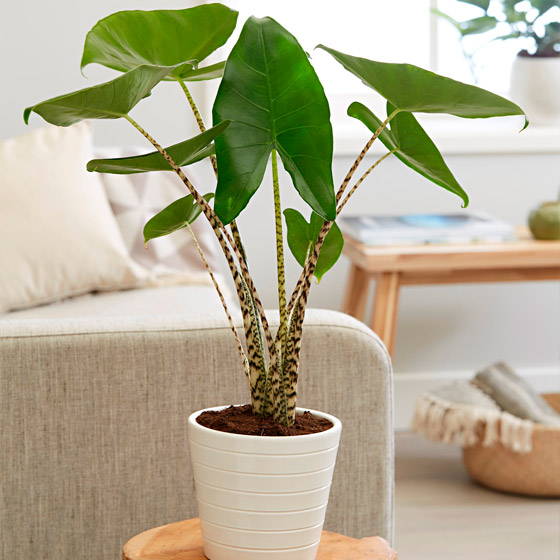 We're keeping to the safari theme: A plant that reminds us of a zebra and an elephant? The Alocasia zebrina XL does just that. This air-purifying Asian houseplant has zebra stripes on its stems, while the green leaves look like elephant's ears. Its leaves can reach a diameter of 1.5 metres in the jungle, which is why the leaves are used there as an umbrella. This plant measures 90–100 cm high and can easily be placed indoors in a bright place, near the window. Keep the soil moist but avoid standing water, as this can cause the roots to rot. Water it little but often. Spray the leaves once a week. Remember: Sometimes the leaves will turn light yellow or brown. The plant will drop these naturally but you can also cut them off.
3. Strelitzia (Bird of Paradise flower) 'Nicolai' XL
This large indoor eplant is also known as the Bird of Paradise flower. However, 'Nicolai' stays green and does not bloom. But this makes this South African plant no less special. At a height of approximately 150 cm and with large, glossy leaves, 'Nicolai' brings a true jungle feeling to every room. What's more, 'Nicolai' also purifies the air. Water this large indoor plant every week, a bit more in summer than in winter, but avoid standing water as this can cause the roots to rot. Spray the leaves every once in a while. This sun-lover likes light spots. Remember: This large indoor plant's leaves can break easily. This is quite normal and natural. When this occurs, simply cut them away.
4. Ficus lyrata XL — Fiddle-Leaf Fig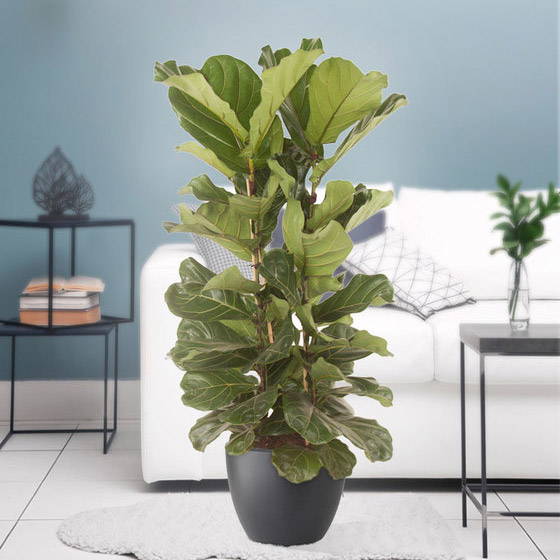 A plant that looks like a fiddle? That's the Ficus lyrata XL. This Ficus' leaves take the shape of a fiddle. This plant, originally from the African rainforest, reaches a height of 120–130 cm and is the perfect accessory for every room, provided that there is enough light. The fiddle-leaf fig also does well when placed near the window in an office. By placing several next to each other you can easily create a natural room divider. Always keep the soil moist but avoid letting this indoor plant sit in standing water.
5. S-shaped Ficus, including decorative pot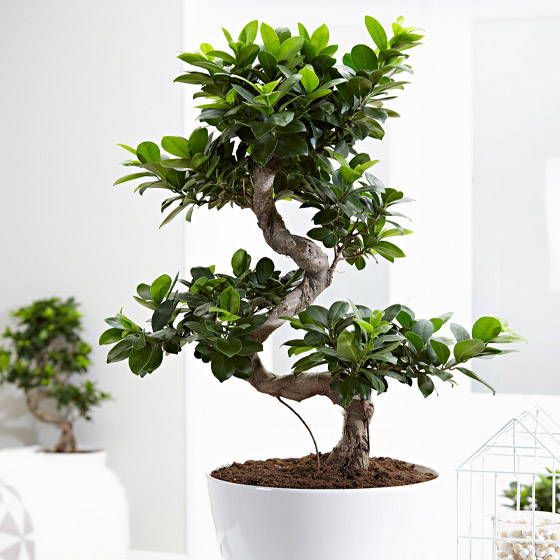 Last but not least. At a height of 110–120 cm, this Ficus is a very large Bonsai. Bonsais can be made with different types of plants. This Bonsai is made of the Ficus microcarpa and is particularly tall, as Bonsais are generally less than a metre in height. The Ficus has an S shape and comes with a flower pot. Keep the soil moist and occasionally spray the leaves. The Bonsai looks good in a light place in any room.