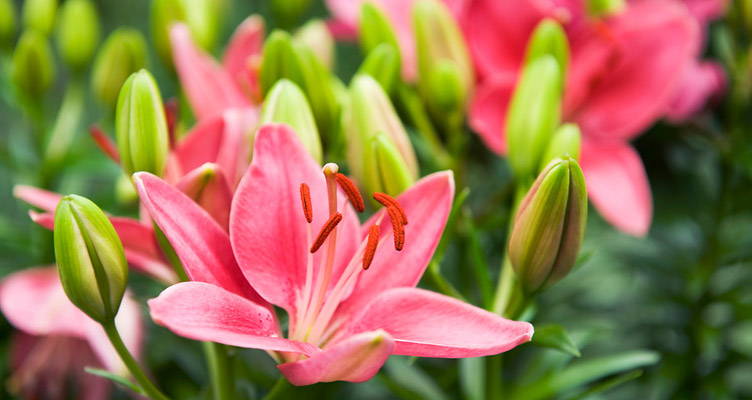 There's an old Chinese proverb – 'If you have two loaves of bread, sell one and buy a lily'. Its meaning? Happiness is not only found in the essentials for life, but also in the beauty of nature. You can make the loveliest combinations of bulbs and other garden plants with popular lily (Lilium) bulbs. You can plant lily bulbs in autumn or spring and they flower abundantly in summer!


Planting lily bulbs in the garden
Plant your lily bulbs in late autumn – October through to December. In spring, the end of April to the end of June is best for planting. Always avoid frost.
They need a nice, sunny spot in the garden.
Loosen the soil thoroughly with a fork and add some fresh potting compost.
The soil must drain well. Add potting compost and some sharp sand to improve clay soil.
It's best to use a hand trowel or a bulb planter to plant your
Always plant your lily bulbs point up, in a hole three times deeper than the bulb is high (roots to tip).
Space your lily bulbs about 20-25cm apart. To plant up a large area, it's sometimes easier to dig a wide enough hole to plant them all at once.
Fill the hole(s) and press the soil firmly down.
Potted lily bulbs

Lilies
look fabulous in a large planter on the patio or decking.
Use a large enough planter with holes in the base to allow excess water to drain away.
The base should always have a layer of gravel or hydro-pellets before filling up with fresh potting compost.
Always plant your lily bulbs point up – each bulb in a hole 2-3 times deeper than the bulb is high (roots to tip).
Potted bulbs can always be planted a little closer together – for lilies, around 15-20cm.
Fill the pot with more potting compost and press it all firmly down.
Water your potted lily bulbs immediately after planting.
Stand the planter with your lily bulbs in a nice sunny spot on the patio or decking.
Mixed lilies – the 'WOW' effect!

A garden or planters can look more engaging if a mixed colour of flowers and foliage is chosen. The powerful lily blooms look great planted in groups, but if you mix them up with other garden plants you will really get that astonishing 'wow' factor that we all seek in our garden. Lilies go great with other tall growing bulbs like the gladiolus, agapanthus and dahlia. If you prefer a natural, relaxed look in your garden, use different flower varieties in just 2 or 3 different shades, all intermingled with each other.
If you want it all to look a little more exciting, go crazy with lots of different flowers and shades. Be bold and go for it – the more different colours, the better it gets. And the rule here is the same; plant your lily bulbs in amongst all the other bulbs and plants. Cheerfulness and exuberance – guaranteed when you mix the colours and the plants!
Lilies indoors
Lilies also make great cut flowers for putting in vases in your home. Snip off a couple from the garden and stand them in a pretty vase with a couple of decorative twigs. Make sure the vase is clean and cut the base of the lily stems at an angle. Remove the lower leaves so they aren't in the water at all. Depending on the temperature, lilies can flower indoors for at least a fortnight. Don't stand the vase in direct sun and refresh the water weekly or sooner if it turns cloudy.