Artificial plants are ideal for rooms where it is difficult or impossible to grow "real" plants. They're perfect for the office, too. Artificial plants are ideal for those of us who don't have much time on our hands, or who aren't fortunate enough to have "green fingers". We've put together a list of the most artful artificial plants to make it easier for you to choose.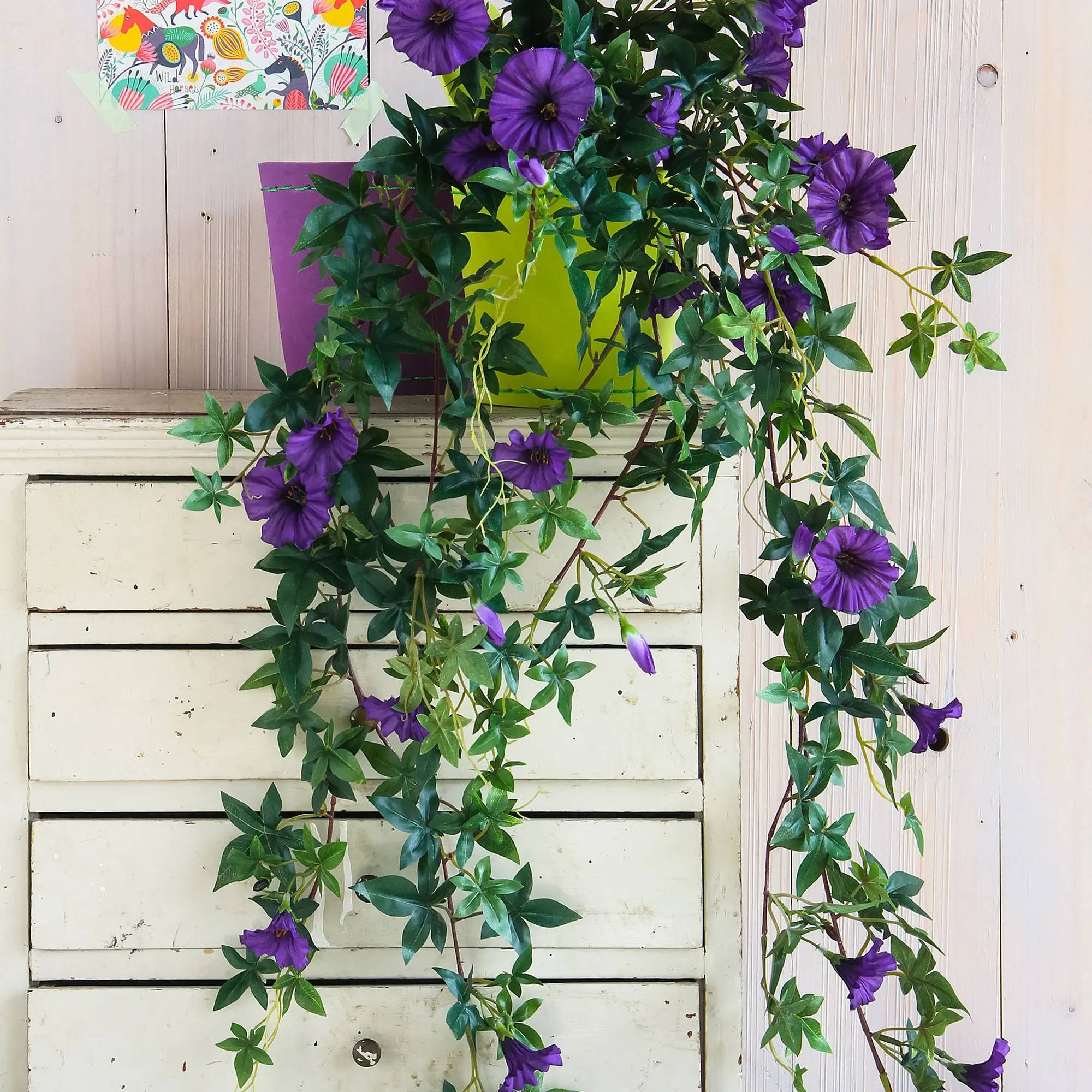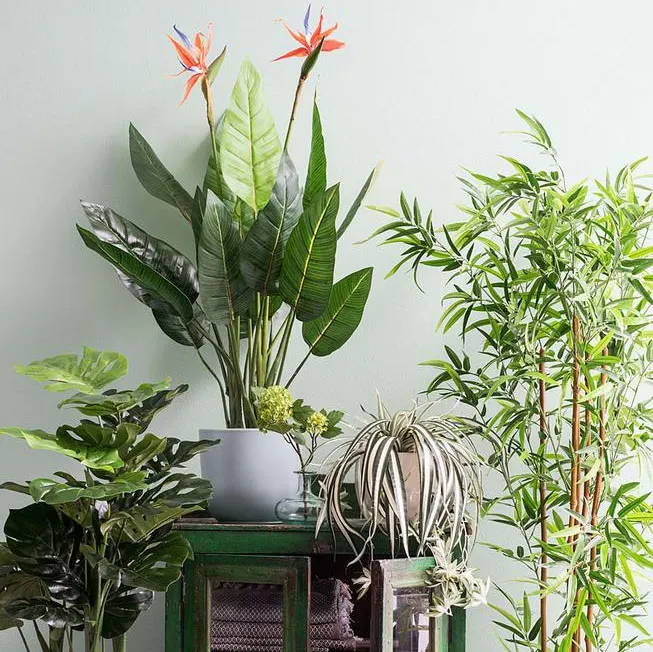 Endless, exotic summer With this artificial petunia, it always feels like summer to us. We either leave it dangling over a cupboard or just hang it nicely in a hanging pot. It doesn't matter if we have lots of space or hardly any — there's always a place for it. You won't be able to tell this artificial hanging plant apart from the real thing. Long branches are interspersed with short branches, and large leaves are mixed in among small leaves. The petunia even has small aerial roots. The deep purple colour creates an exotic atmosphere. And the great thing about this little imposter? It blooms forever.
Dream of far-away places. This exotic bird-of-paradise plant gives us that true holiday feeling. The Strelitzia is a large artificial plant. We use it to brighten up a dark, drab corner. We also put it in the bathroom to make it feel like we're taking a shower in the tropics. You won't be able to tell this artificial Strelitzia apart from the real thing. The veins in the leaves are clearly visible and the various shades of green create a vivid effect. The orange and blue colours of the flowers are just as bright as the real thing. We imagine ourselves sitting on a tropical beach with a cocktail in hand.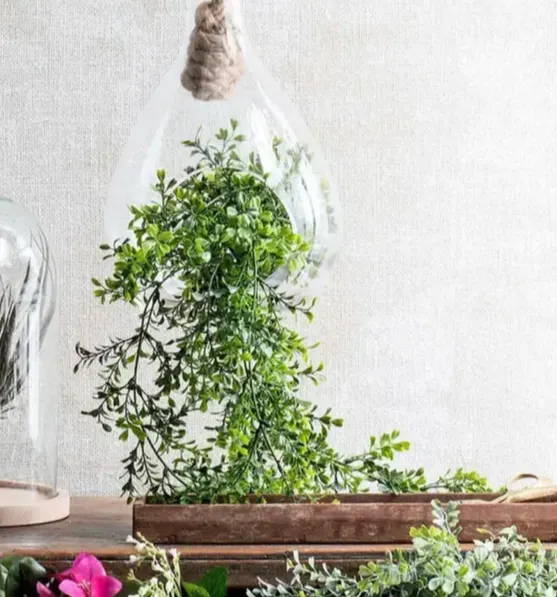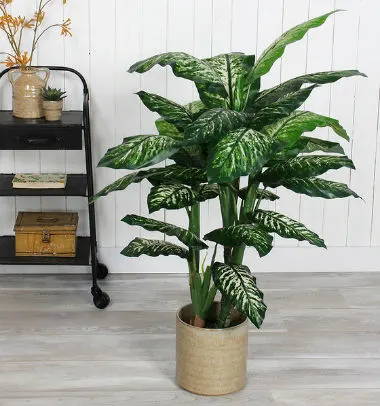 We let it all hang out. This artificial hanging Ficus looks good anywhere, lending a splash of green to any room and any corner. We can't tell this artificial hanging plant apart from the real thing. The little leaves have been recreated to perfection. We either put the Ficus in a hanging pot, usually a glass one, or leave it dangling over a cupboard. Securely fixed in place, of course. This artificial hanging plant is perfect for anyone who occasionally forgets to water their plants. Whereas a real Ficus loves to get its feet wet, we never have to worry about watering this one.
A tropical masterpiece. This artificial tropical plant looks like it's been painted. The pattern. The distinct green and light yellow colours. The different sizes of leaf, creating a vibrant effect. These features make it hard to tell this Dieffenbachia apart from the real thing. What's more, this artificial variant offers the added bonus of not having toxic sap. We put the Dieffenbachia more or less anywhere we can find a space for it. Sun or no sun, water or no water, to repot or not? You don't have to worry about any of these things. We can simply perch it somewhere and don't have to keep checking up on it. All we have to do is admire how beautiful it is.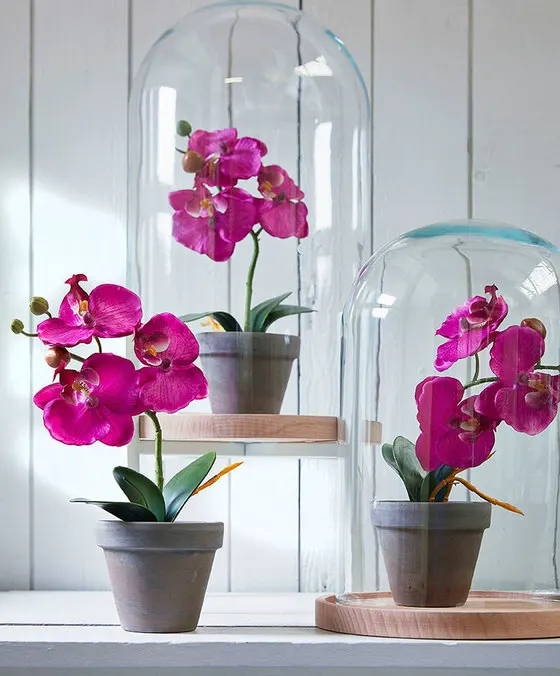 The beauty of a butterfly. The Phalaenopsis is also known as the butterfly orchid due to the shape of its flowers. This artificial orchid brightens up any room. What's more, we don't have to do anything with it. You won't be able to tell this Phalaenopsis apart from the real thing — just like the rest of the artificial plants in this list. The aerial roots have been faithfully recreated. The petals have that genuine orchid pattern. The green leaves are just as thick as the real thing. We find it fascinating. We stare at it. We simply can't get enough of this artificial orchid!
A palm. Who wouldn't want one? We either place this largeartificial Areca palm/golden cane palm on a small stool or simply put it on the ground. This Areca palm even looks great nestled between other plants, whether they're artificial or not. We've paired this palm with the artificial Strelitzia in our bathroom, which really enhances the "showering in the tropics" effect. The leaves of the artificial Areca have the characteristic satin soft glow of real plants, while the little green shoots lower down create a vibrant effect. And the advantage of this artificial golden cane palm? It doesn't need any water. Real Areca palms are very thirsty. So we can just sit back and relax in our green oasis.